600+ clients trust us with their brands
Our work with our clients speaks for itself. For more than 25 years IDP has been working on branding and communication strategy for organisations in every sector, using innovative 360° techniques.
Many of our clients have been with us for several years. That they have trusted us for so long is satisfying and encouraging.
Rouden Eck
Task: creation of a name and visual identity for a housing project
Objective: find a name that links the project with the locality
Target: promoters and real estate investors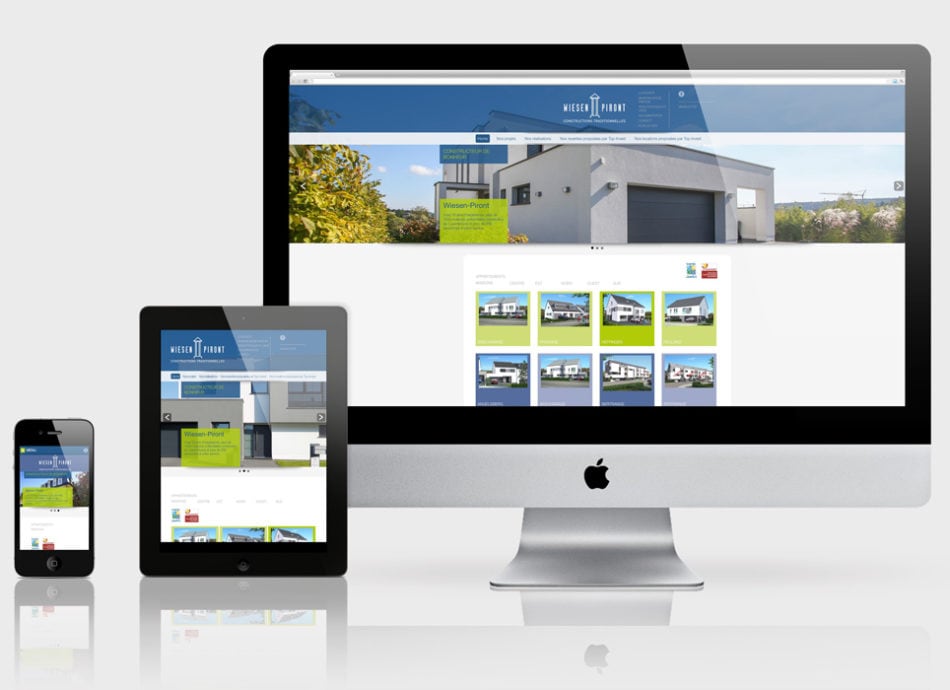 Wiesen-Piront
Task: creation of a new website to sell houses and apartments
Objective: create and exhaustive 'user friendly' catalogue with a simplified design
Target: general public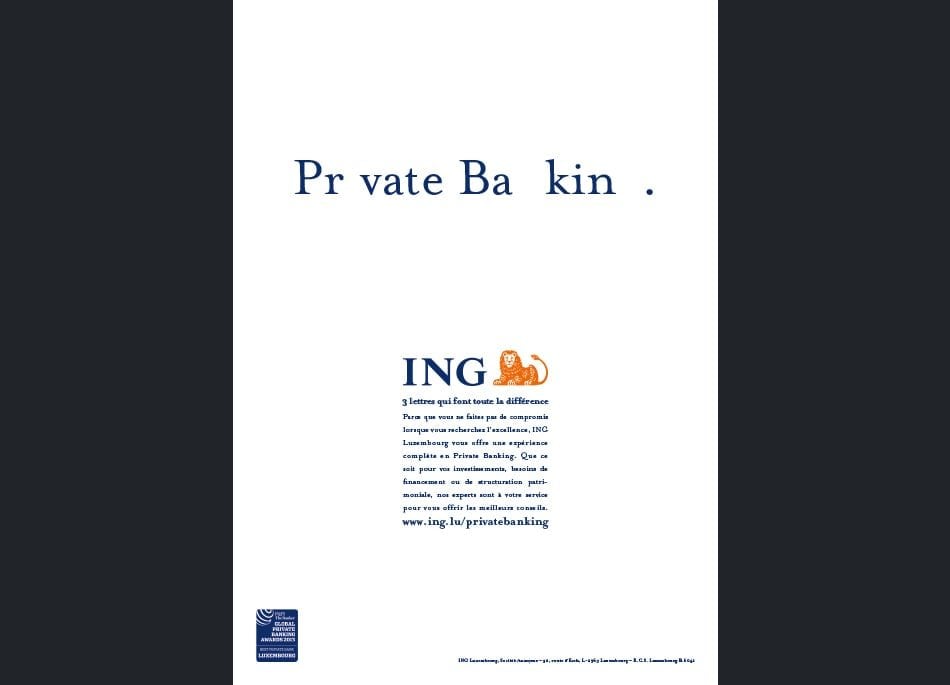 ING – Private Banking
Task: private banking
Objective: a bold message to promote ING's international expertise, and highlight how their skilled team makes a real difference
Target: ING clients and potential clients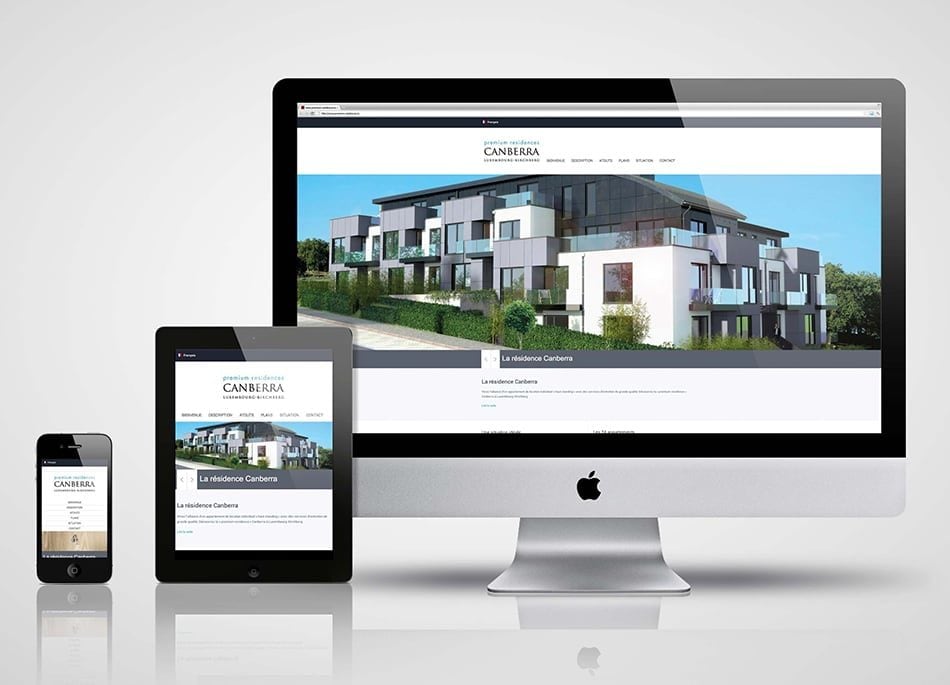 Résidences Canberra
Task: new website for a short-term rental residence
Objective: develop the short term rental offering
Target: expats in Luxembourg, employees of EU institutions, bankers, diplomats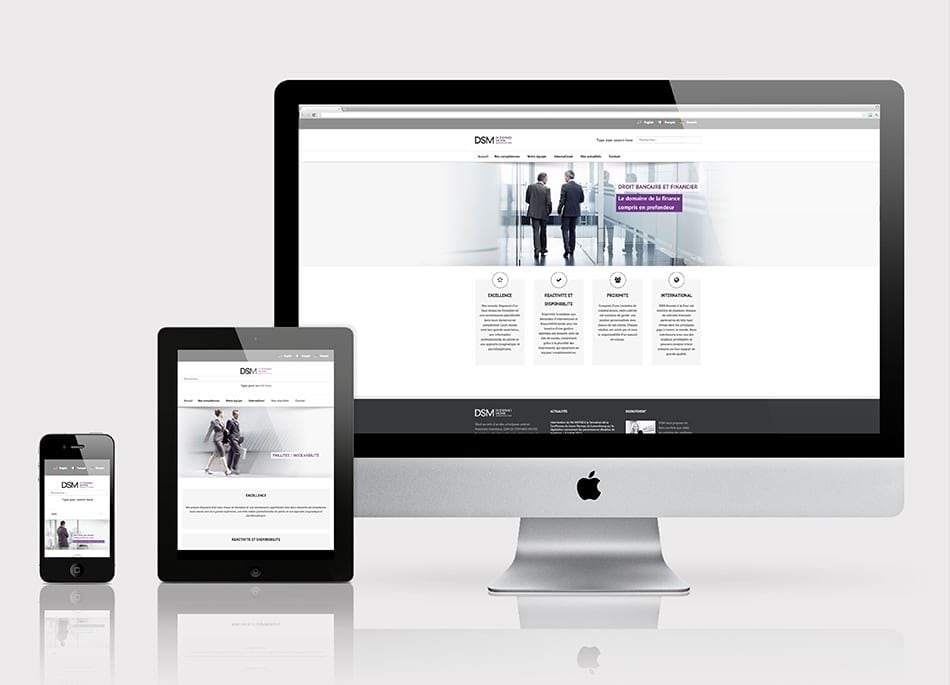 DSM
Task: update and reshaping of the website
Objective: better highlight the range of expertise using a new CMS equipped with purified graphics for clearer information
Target: B2B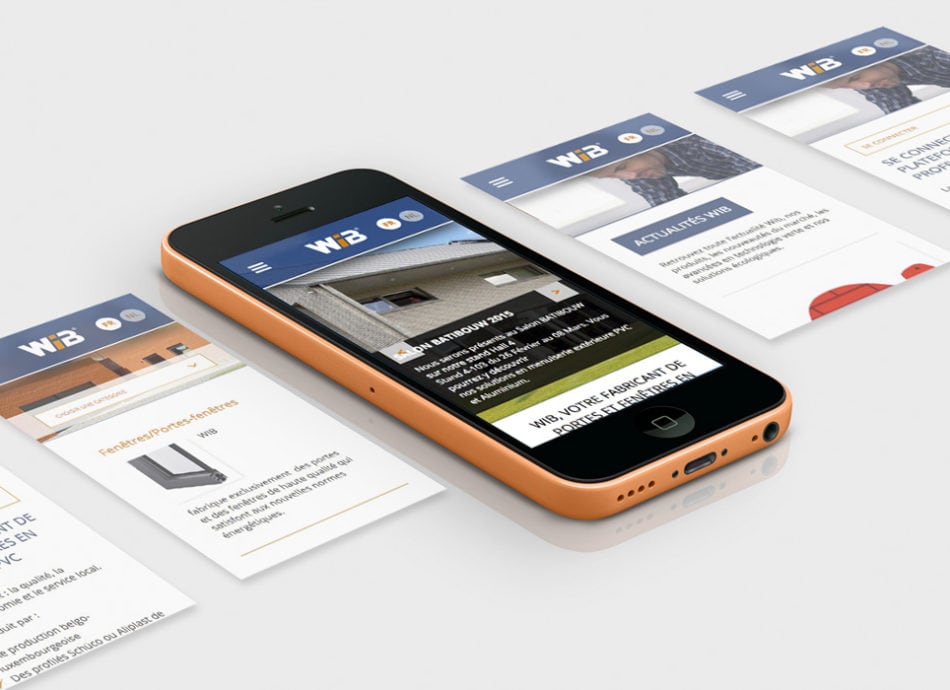 WIB
Task: refreshing the graphical look, and creating a well-designed website
Objective: purified graphic feel, enriched information, and optimised structure
Target: B2B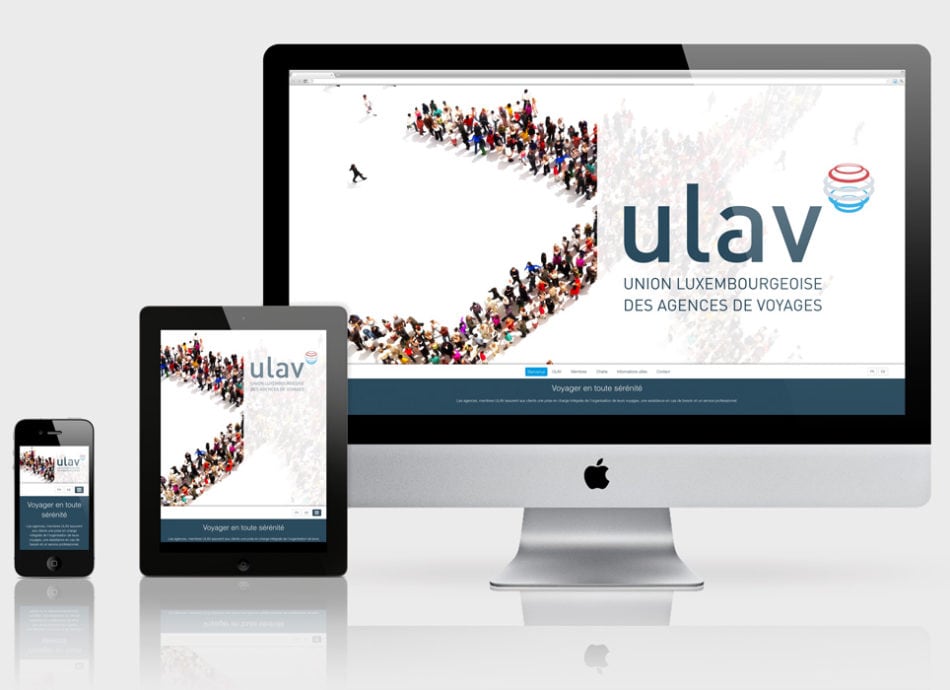 ULAV – Luxembourg Union of Travel Agencies
Task: a new name for the association as it changes to ULAV from GAVL
Objective: create a logo and a visual identity, build a website, and boost press relationships
Target: general public
Keytrade – Resolutions
Task: use New Year's resolutions to communicate about Keytrade Bank
Objective: depart from the usual way of advertising banking services with an attractive, cheeky message to attract new clients
Target: general public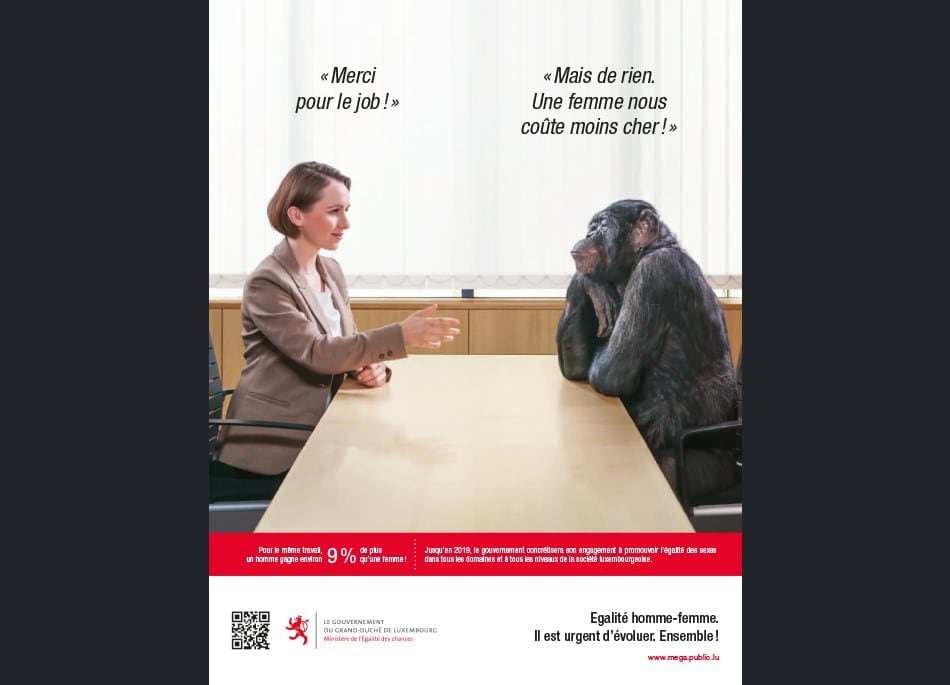 Ministère de l'Egalité des chances – Promotion of male/female equality
Task: male/female equality at work
Objective: raise public awareness on persistent inequalities between the sexes
Target: general public, politicians, employers, and trade unions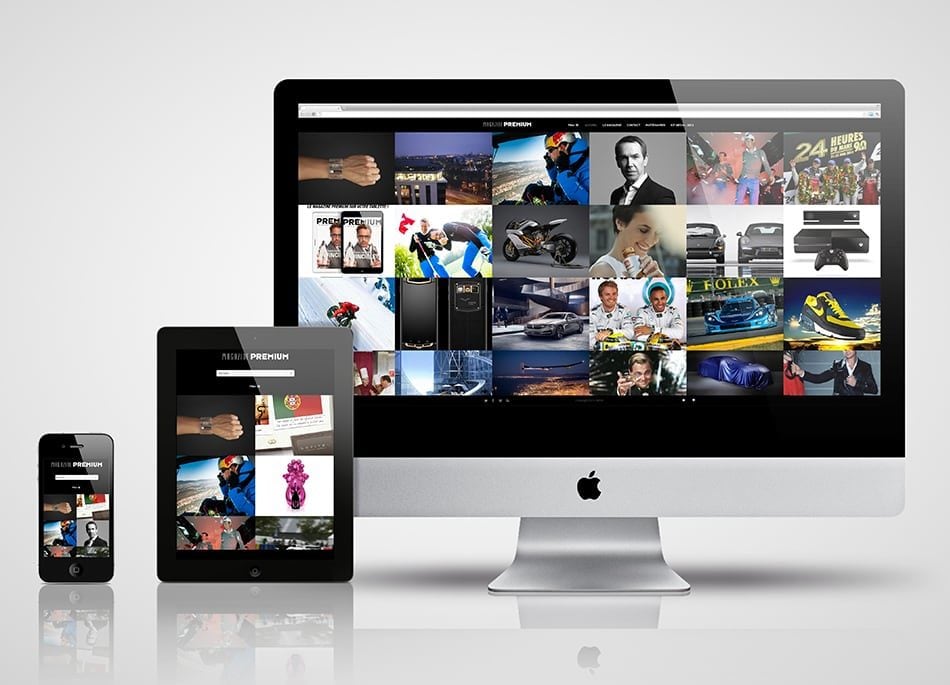 Premium magazine site
Task: new website for the magazine 'Premium'
Objective: present the editorial/audio-visual content in a stylish, contemporary fashion
Target: predominantly male readership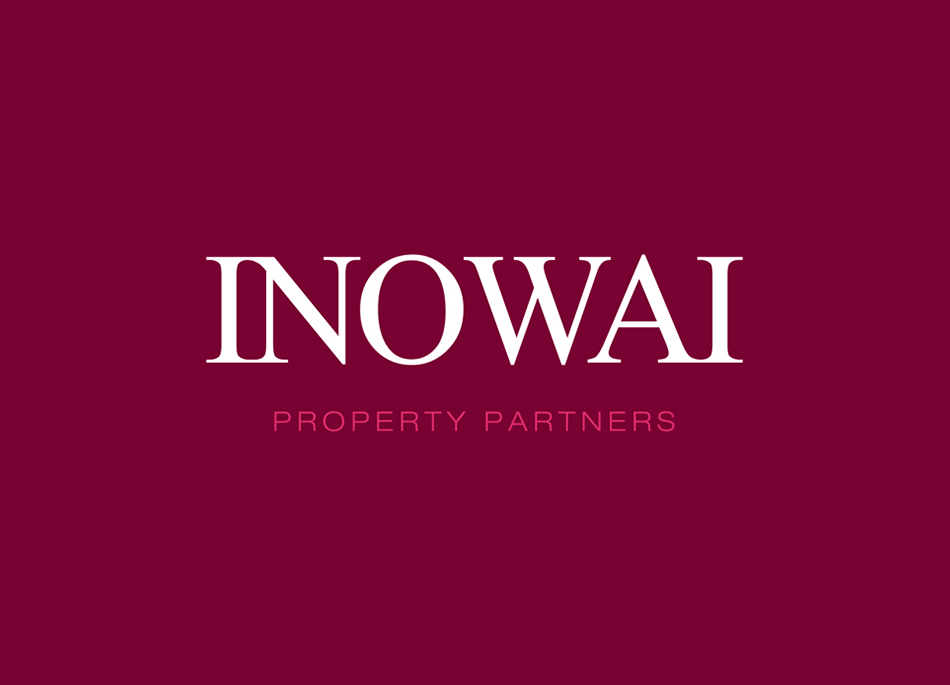 Inowai
Task: "Property Partners" changes their name
Objective: creation of name and logo to help increase international reach
Target: real estate professionals and general public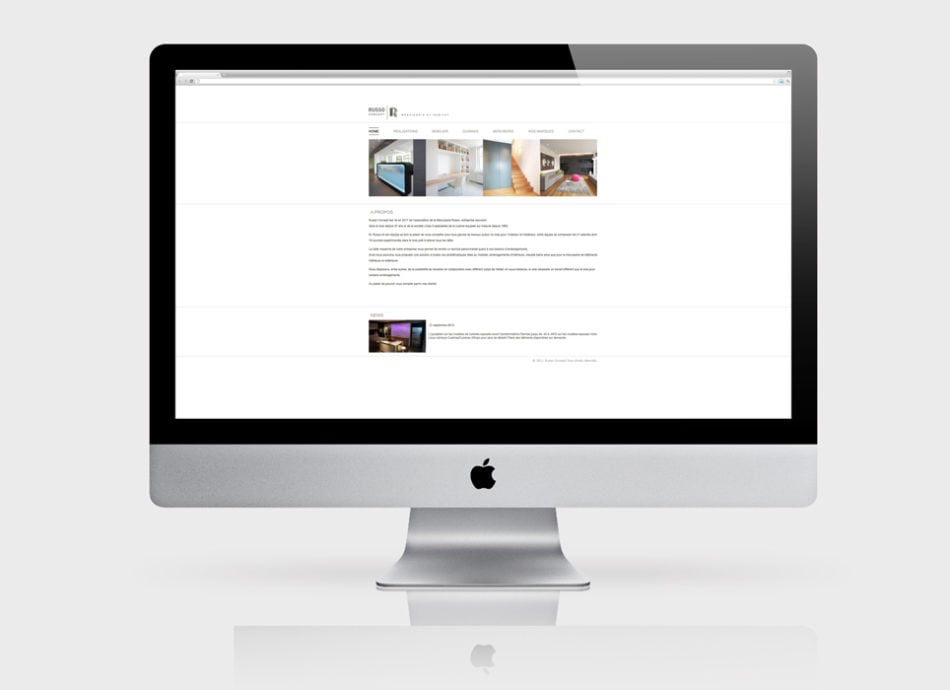 Russo Concept
Task: new company created following a merger of Linea 3 and Menuiserie Nicolas Russo
Objective: creation of a corporate identity and a clear, simple, precise website
Target: general public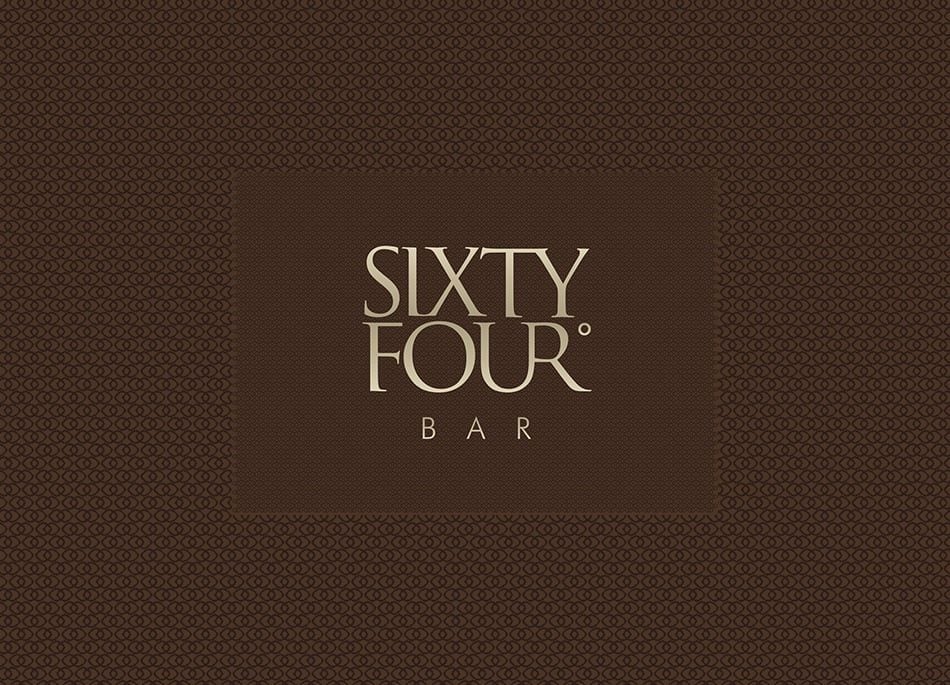 Sofitel – Launch of Bar Sixty Four
Task: inauguration of the new Bar Sixty-Four in the Sofitel Luxembourg-Kirchberg
Objective: create a name, logo, and visual identity alluding to whisky – 64° Fahrenheit is the optimal temperature at which to serve whisky
Target: general public and hotel clients
Fruit@office
Task: highlight the benefits of fruit over fatty or sugary food
Objective: promote boxes of fruit, with an online form to receive a free box
Target: B2C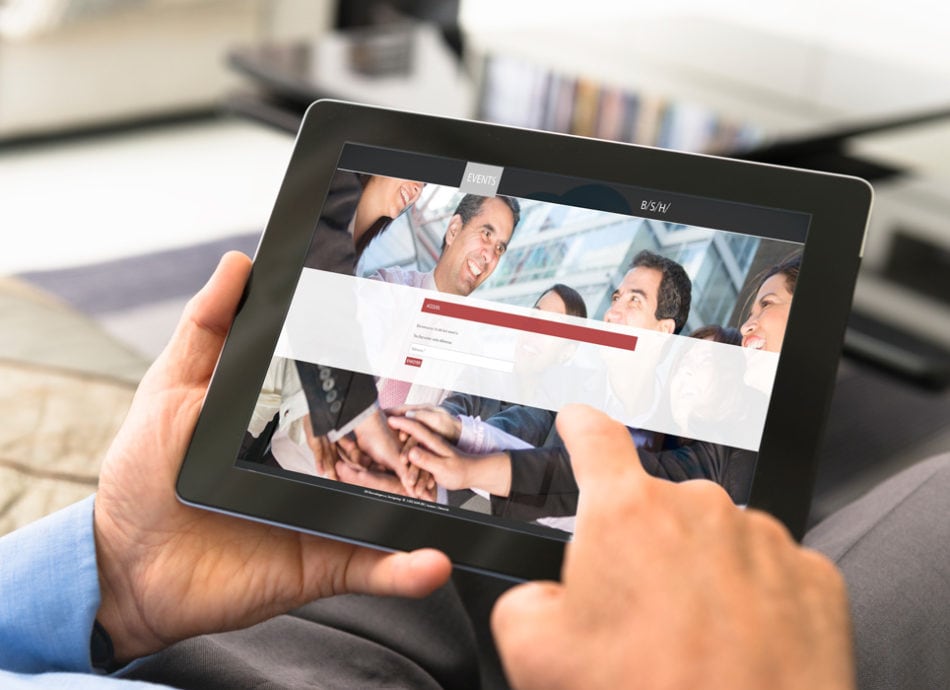 BSH event
Task: creation of a modular "Event" site
Objective: involve the public in a range of web-based competitions and events to promote the brands Bosch, Siemens, Neff, Gaggenau, Constructa etc.
Target: retailers and their clients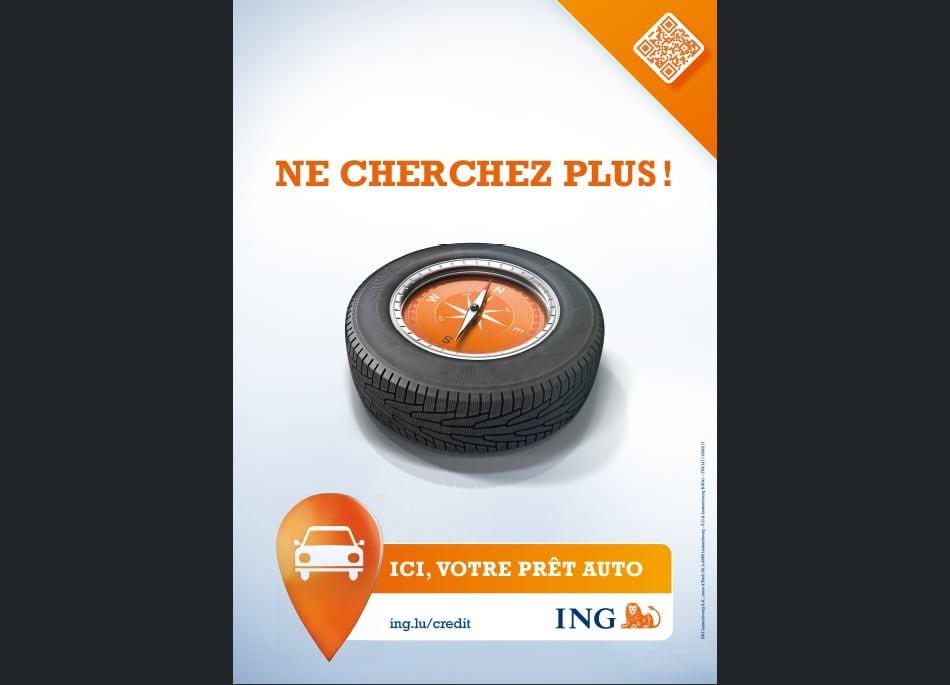 ING – lending promotion campaign 2015
Task: ING personal loans
Objective: create a common theme to promote different loans: personal, housing, and car
Target: ING clients and potential clients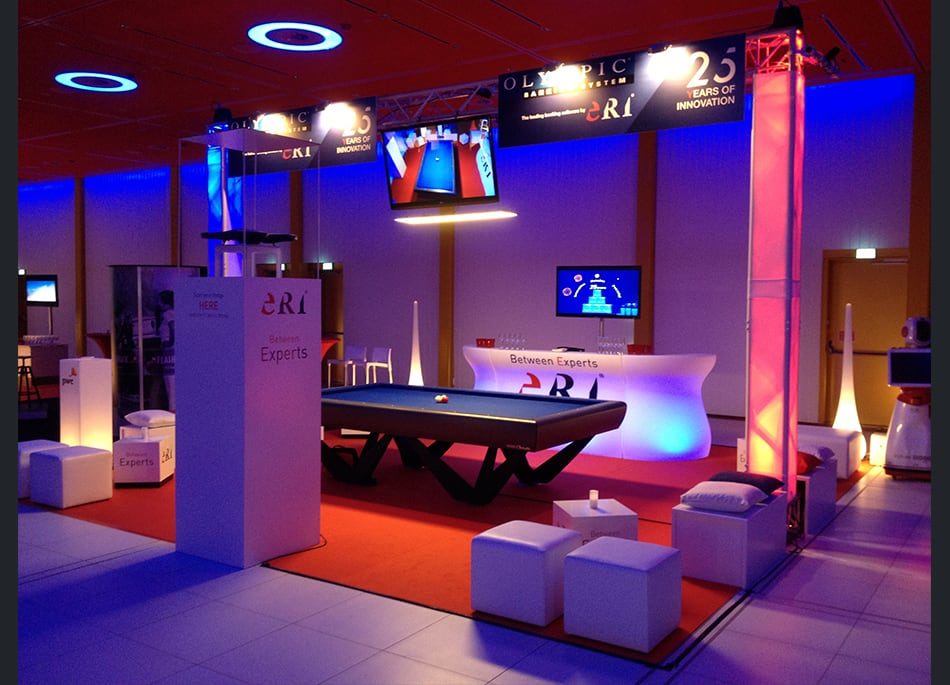 ERI
Task: a stand at the Golden-I event
Objective: highlighting their expertise in banking security by creating a client experience – measuring performance, strategic planning and concentration against that of an ex-snooker world champion
Target: B2B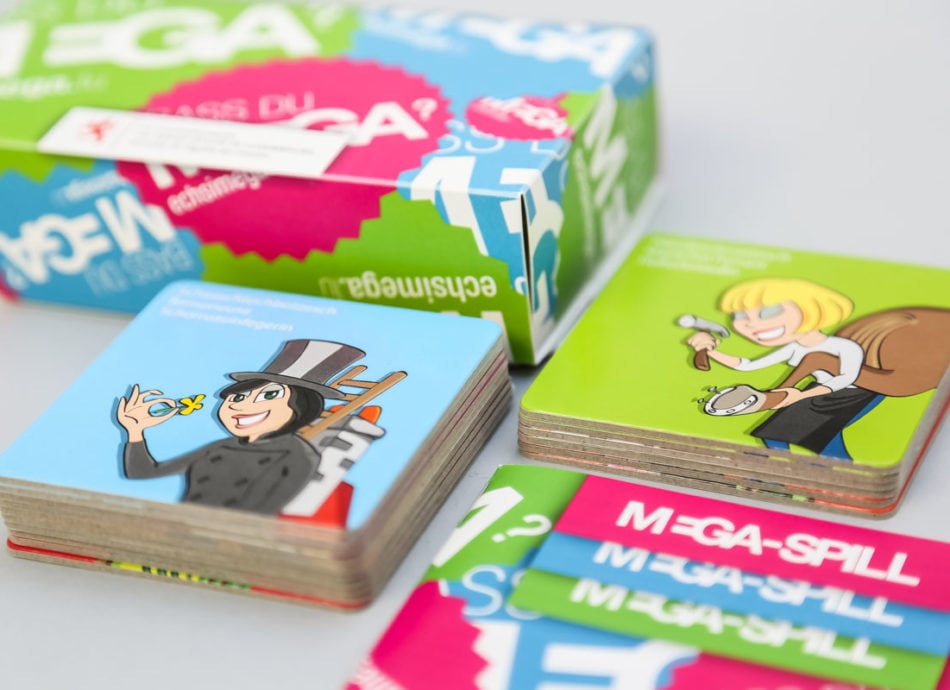 Ministère de l'Egalité des chances – Mega-Spill
Task: presentation of the 'Mega-Spill' game
Objective: using a game to break down prejudices and raise awareness among young people about how no jobs are reserved exclusively for men or women
Target: primary school children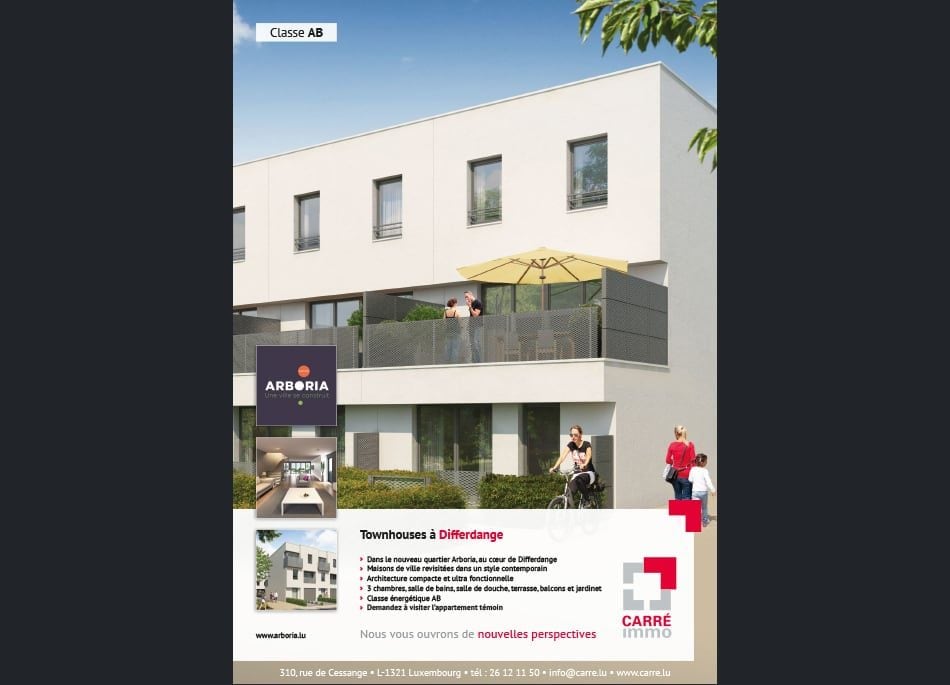 Carre-Immo – Rebranding
Task: rebranding of the logo and brand repositioning
Objective: finding a new corporate brand, with each ad using words that reflect this
Target: B2B and B2C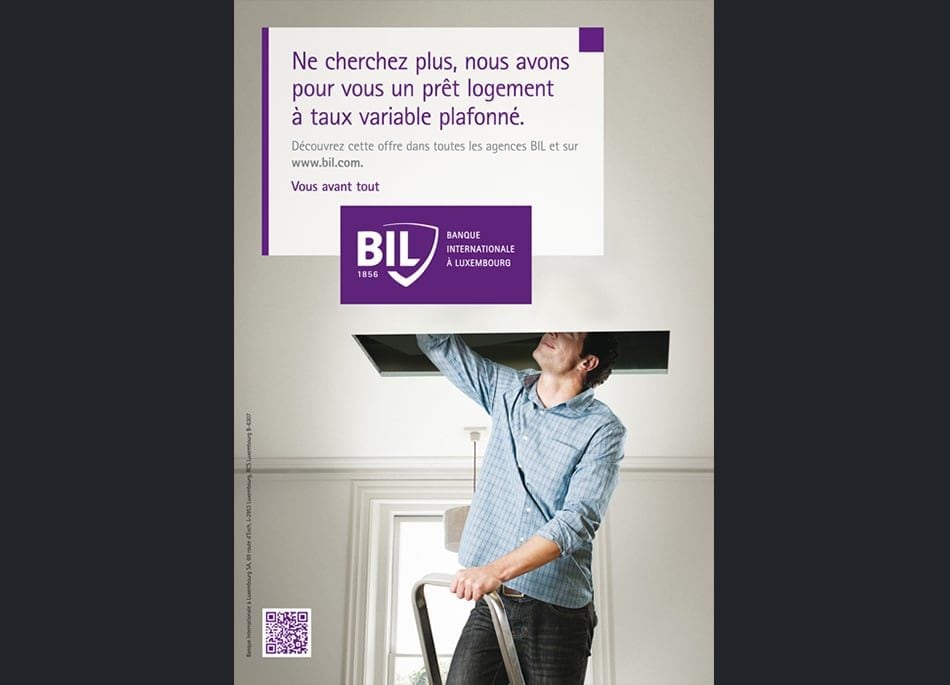 BIL – Housing loan
Task: housing loan
Objective: offer a capped variable interest rate with a response to your project made within 48 hours
Target: general public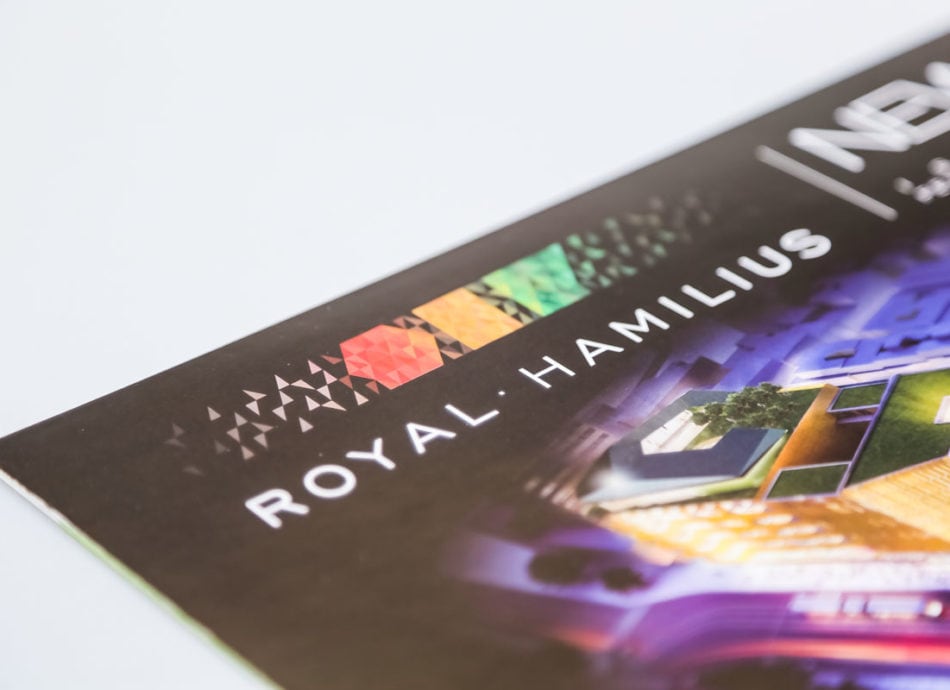 Royal Hamilius – Newsletter
Task: creation of a newsletter for national distribution
Objective: build public loyalty for the Royal Hamilius project, and to keep people informed of progress
Target: general public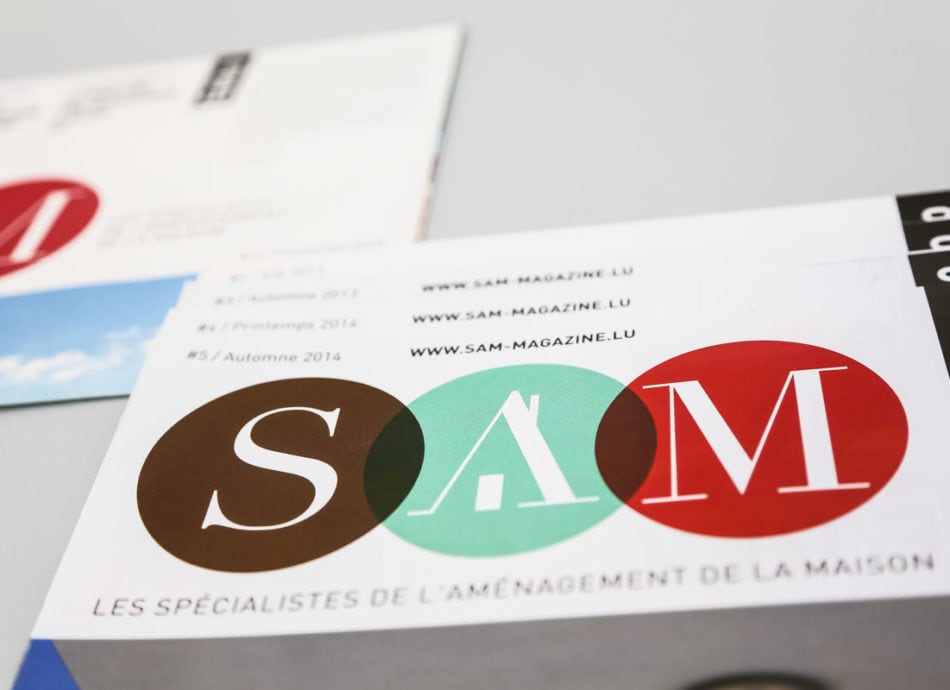 SAM magazine
Task: magazine for household internal design professionals
Objective: communicate directly to individual clients
Target: general public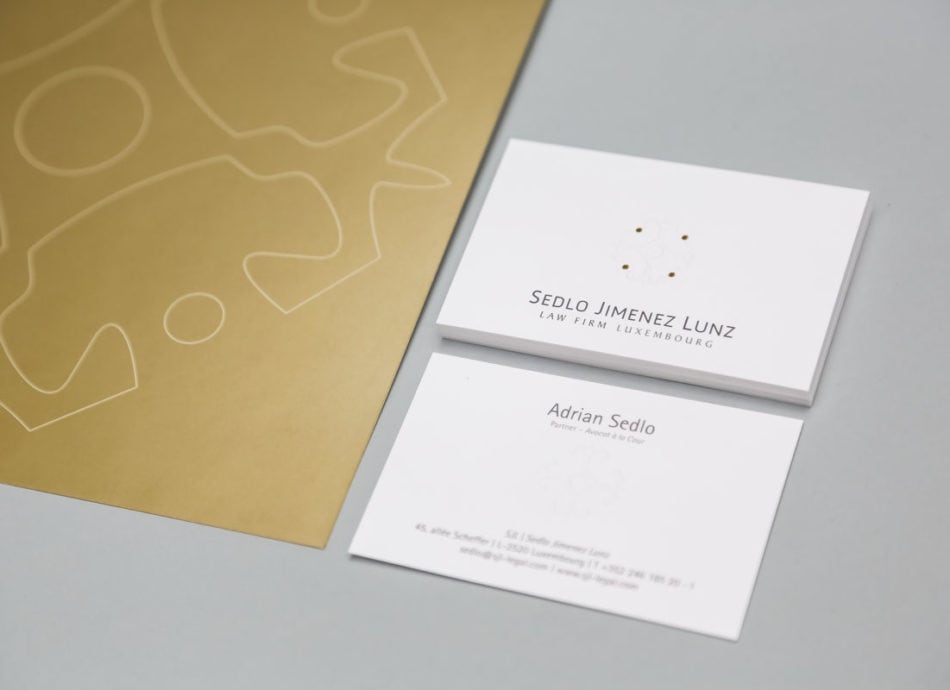 Sedlo Jimenez & Lunz
Task: 'image' brochure for the law firm Sedlo, Jimenez et Lunz
Objective: a high-end design to reflect the company's values
Target: clients and potential clients
Wiesen-Piront – Corporate
Task: creation of brand guidelines for advertisements, folders, stationary, signage, and other uses
Objective: modernise the brand to stand out from the competition
Target: general public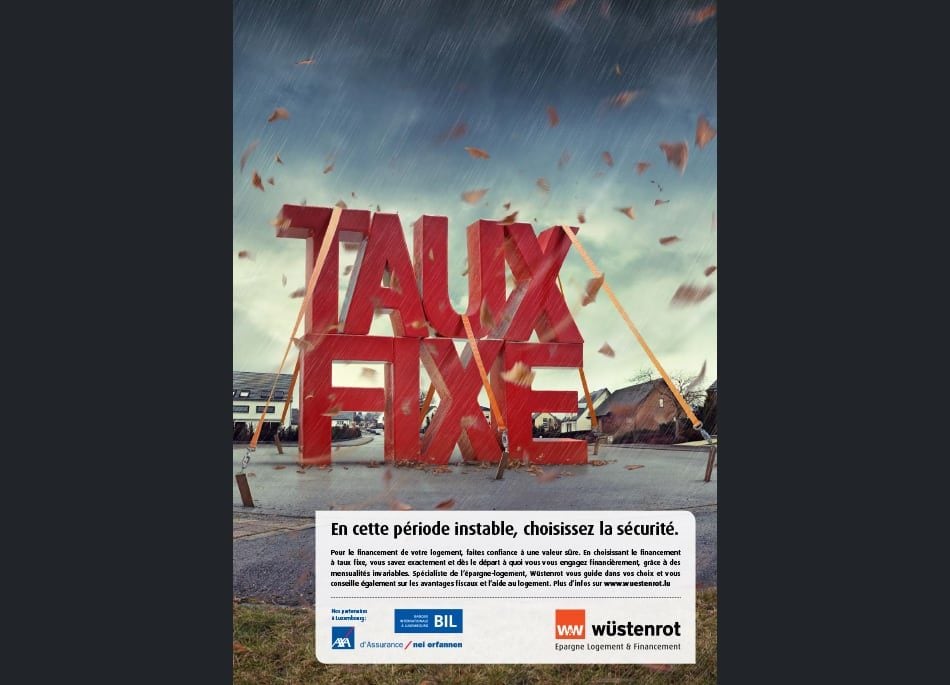 Wüstenrot – fixed rate
Task: "Fixed rate" campaign
Objective: promote the fixed interest rate offered by Wüstenrot in their savings-housing plan
Target: general public
Keytrade – RTL campagne RTL
Task: a promotion offering a chance to win one of 500 RTL Group shares
Objective: To raise awareness amongst Luxembourg's admirers of an online trading tool using Broadband and a monument of the media landscape, RTL group. Increase the percentage of Luxembourg based shares in clients' portfolio. Increase number of account openings.
Target: Luxembourg residents, particularly nationals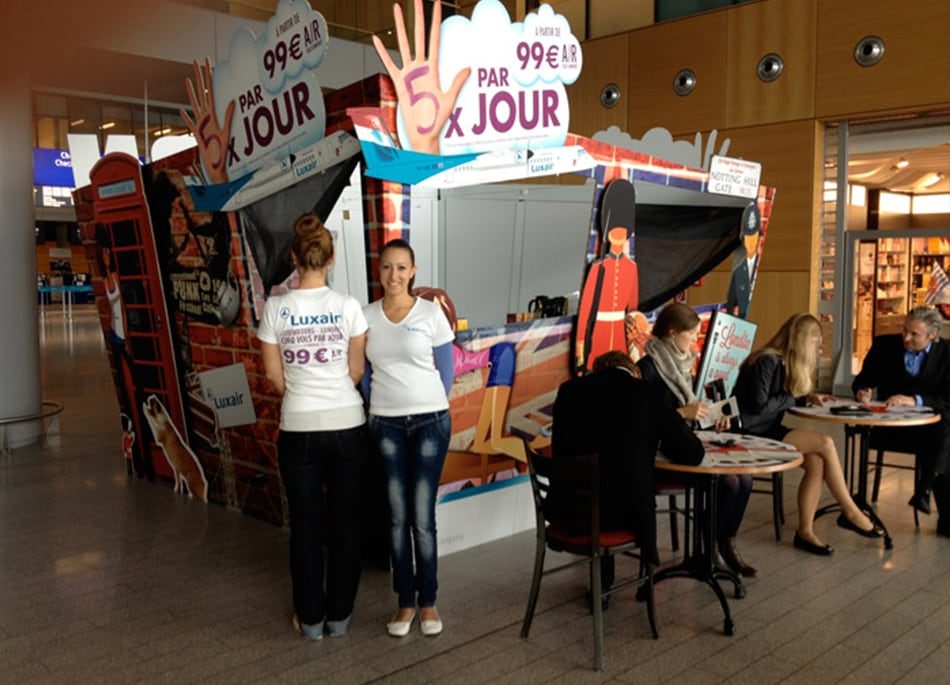 Luxair – Destination London
Sujet: cinq allers retours à Londres par jour par Luxair au départ l'aéroport de Luxembourg
Objectif : attirer l'attention avec une idée sur mesure. Création d'un stand appelé « BritBox » à l'aérogare durant 3 jours et d'un mécanisme de jeu pour faire avancer un avion jusqu'à sa destination
Cible : grand public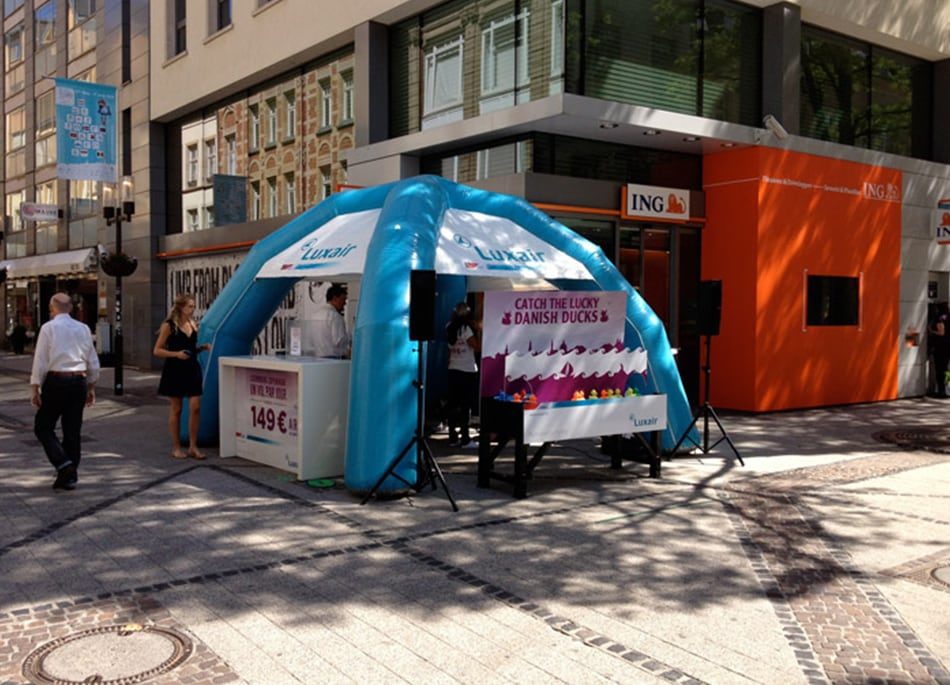 Luxair – New destination Copenhagen
Task: launch the Luxembourg-Copenhagen route
Objective: lunchtime promotion in Luxembourg City centre with a stand and activities, Danish food, a specially designed game with the chance to win plane tickets
Target: general public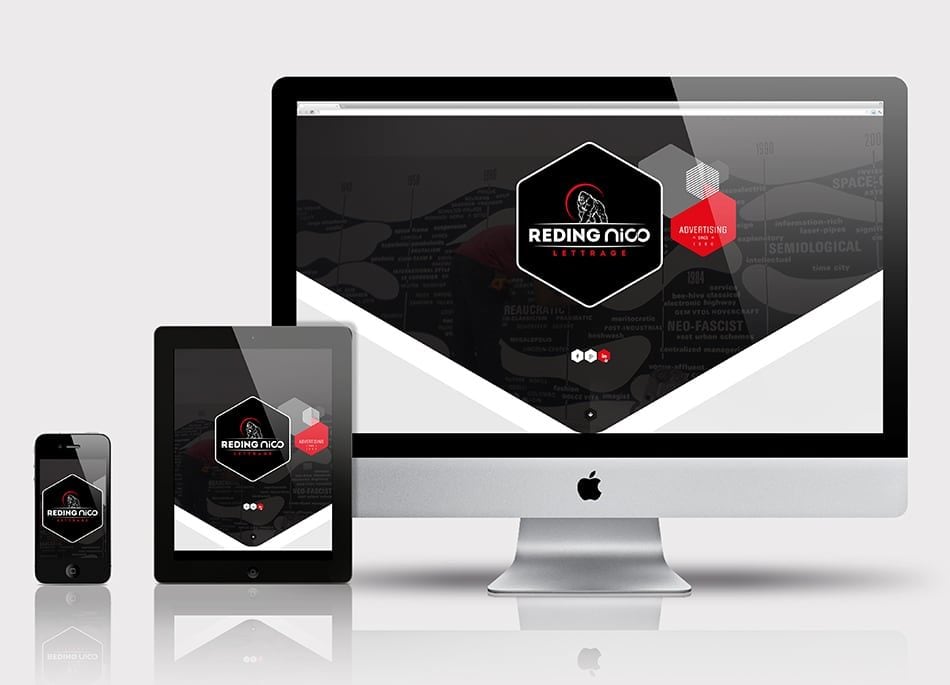 Nico Reding
Task: creation of a showcase website
Objective: present different production processes (lettering, posters, stand decoration,…)
Target: suppliers and private clients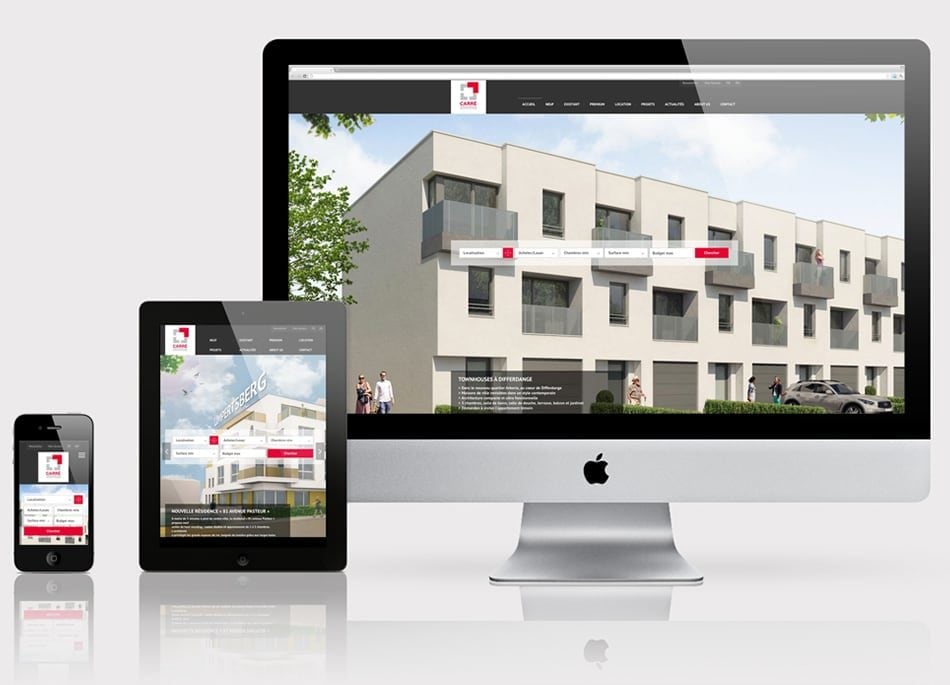 Carre Immo
Task: website rebranding
Objective: modernise the layout and ease navigation, to better highlight real estate properties – using large, clear photos
Target: general public, real estate investors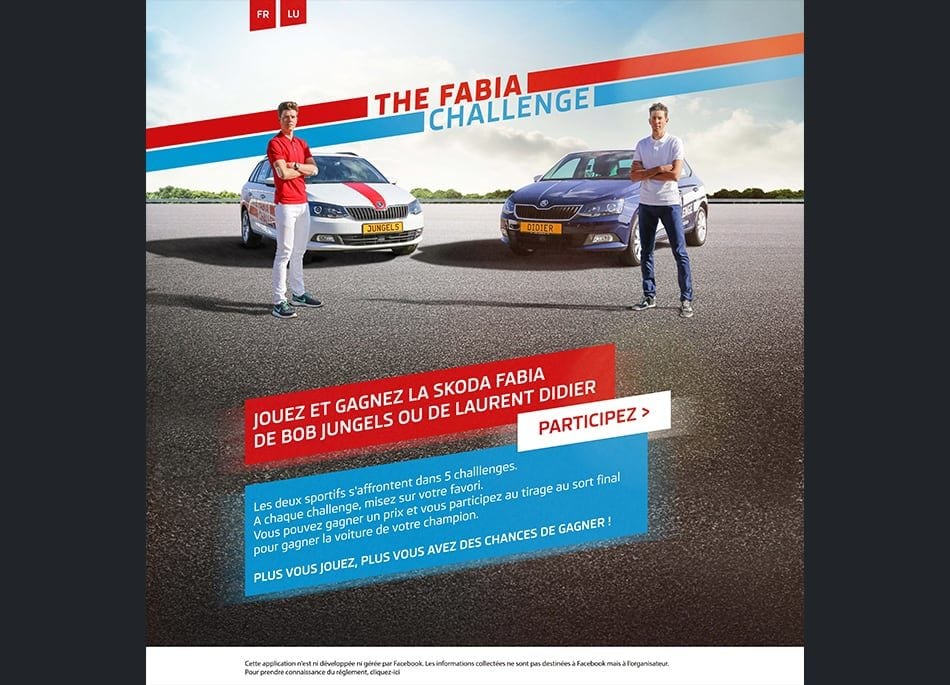 Škoda Fabia Challenge
Theme: competition for the general public to add dynamism to Škoda Luxembourg's Facebook page. Promoting Škoda, their professional cycling team, and their two Luxembourgish team members Bob Jungels and Laurent Didier.
Objective: communicate a dynamic brand image with a sporting theme featuring several challenges on Facebook for the general public – accompanied by Google Ads and YouTube campaigns
Target: young, sporty general-public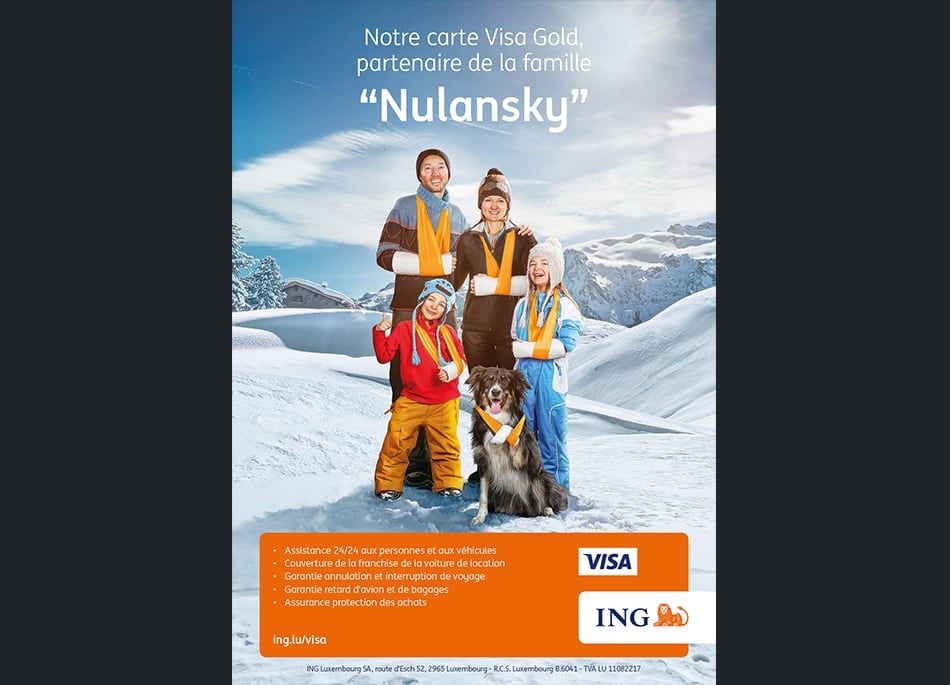 ING – Carte Visa Gold 2015
Task: ING Visa Gold card
Objective: humorous communication to promote the family coverage offered by the Visa Gold card
Target: ING clients and potential clients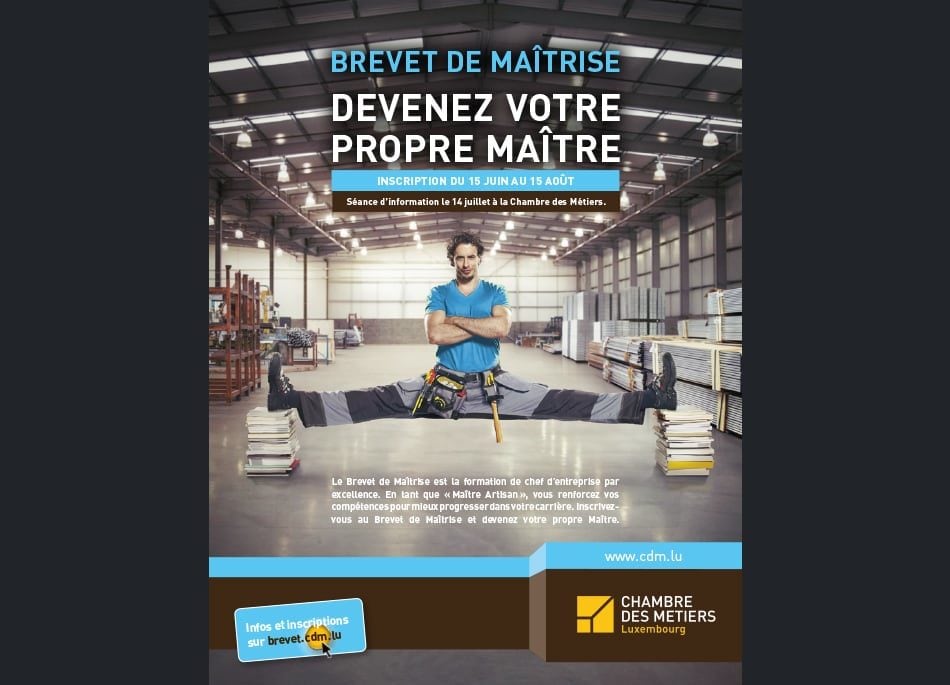 Chambre des Métiers
Task: stimulate registrations for the "Brevet de maîtrise" qualification
Objective: encourage future entrepreneurs to take the "Brevet de maîtrise" qualification that will help them set up their own handicraft and retail businesses, and train apprentices
Target: general public, future entrepreneurs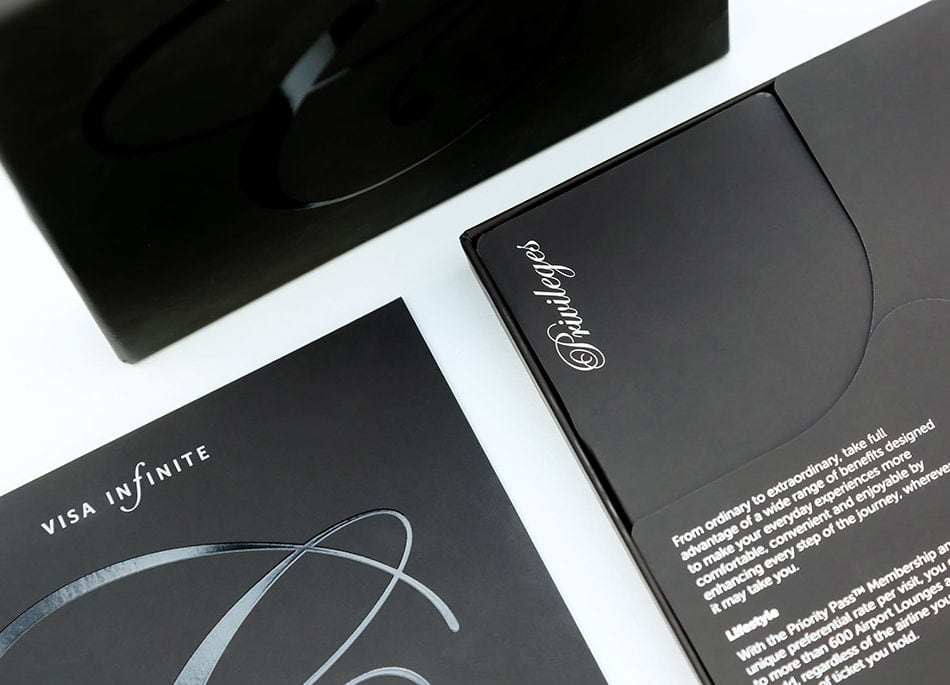 Catella Bank
Task: introduction of the Visa Infinite card from Catella Bank
Objective: create high-end packaging and a brochure to present the Visa Infinite card to new users
Target: high net worth individuals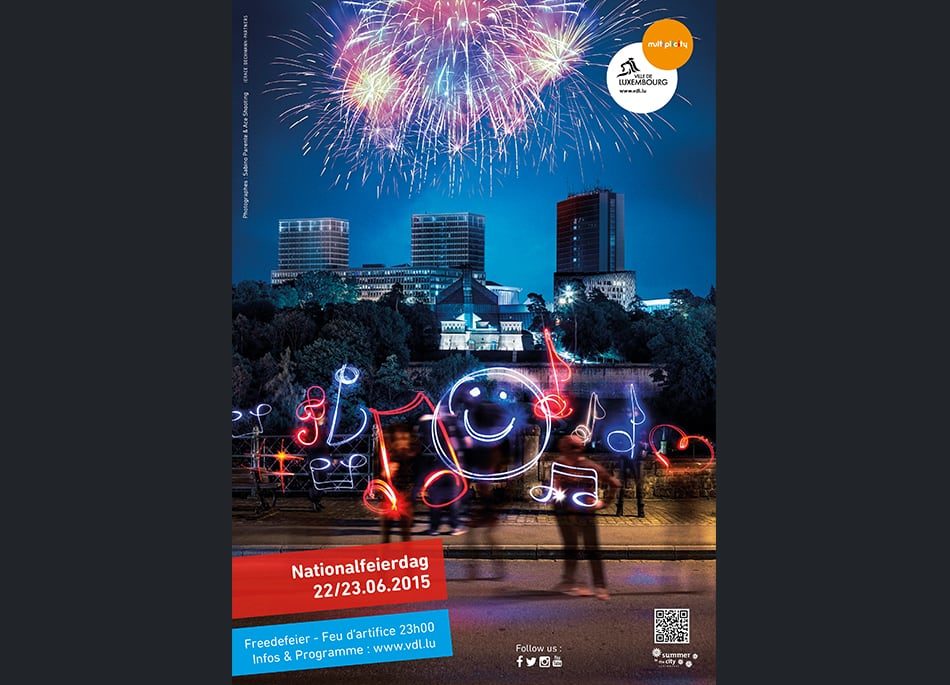 Luxembourg City – Nationalfeierdag 2015
Theme: festivities around the Fête de la Musique and National Day in Luxembourg City
Objective: inform the general public about the highly varied three-day programme
Target: general public: residents, cross-border commuters, tourists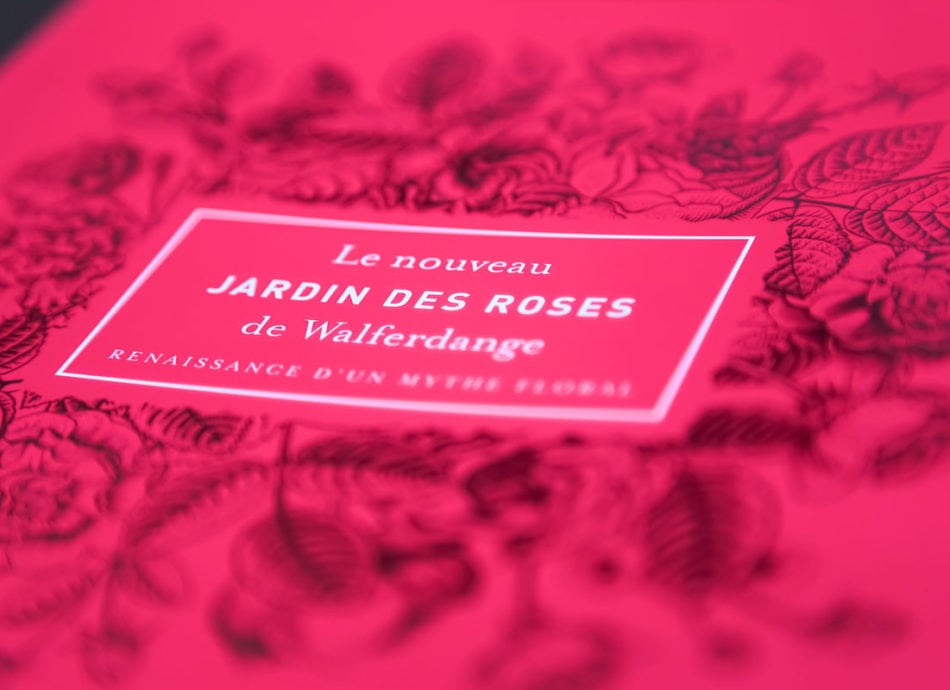 Rose garden in Walferdange
Task: presentation of a new rose garden in Walferdange
Objective: create refined promotional material to highlight the new garden in readiness for its inauguration by Princess Stéphanie
Target: residents of the commune of Walferdange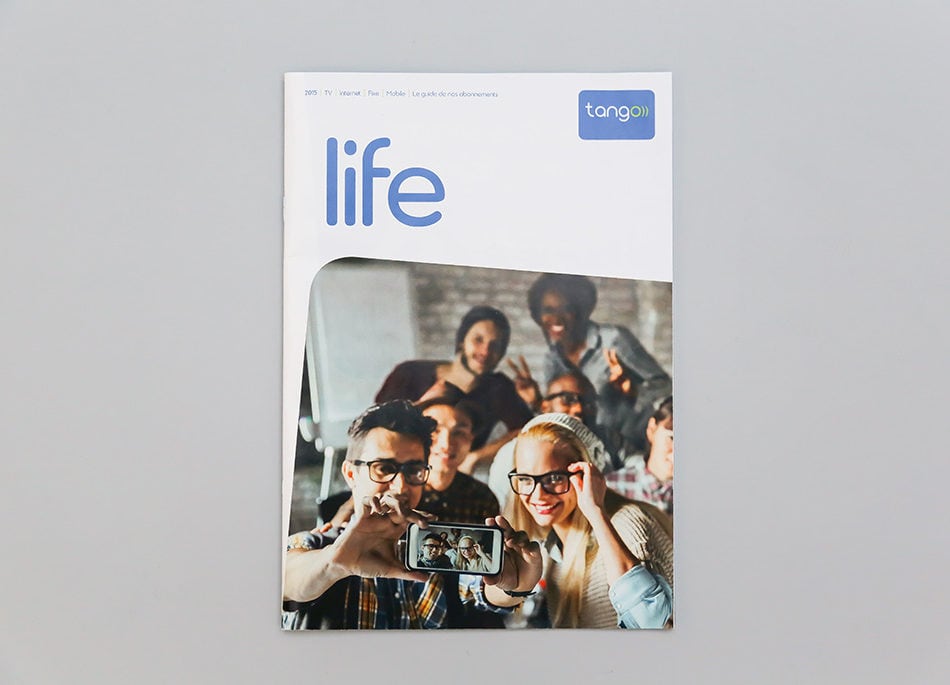 Tango -| Abo news
Task: guide to Tango subscriptions
Objective: bring together all Tango commercial offers (TV, internet, fibre, mobile) in a single publication
Target: general public, Tango sales teams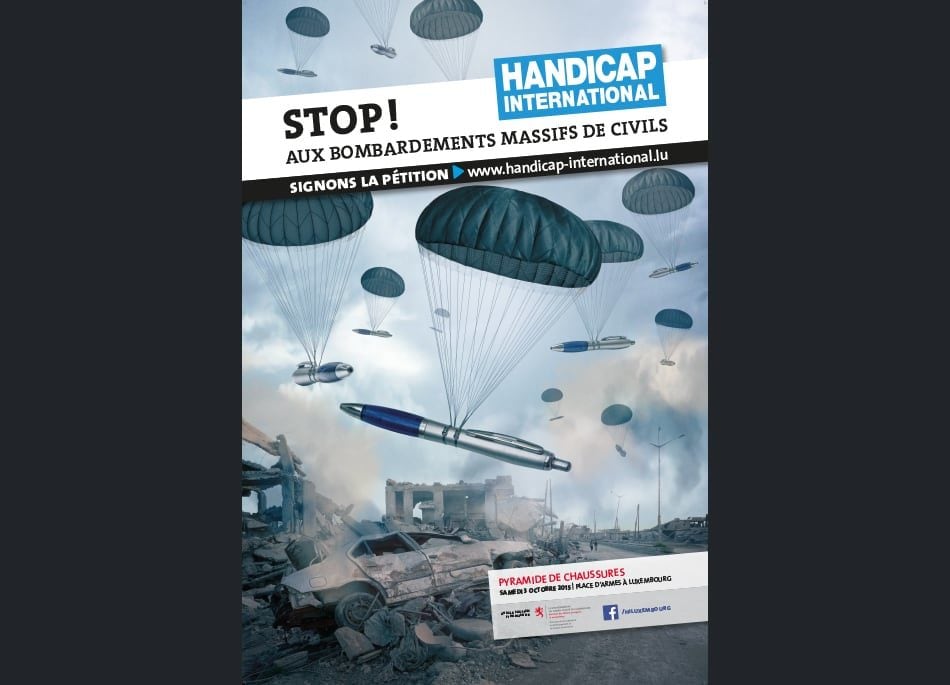 Handicap International 2015
Task: reaffirmation of Handicap International's mission of aiding post-war clear ups and development
Objective: mobilise general public to sign petitions against non-targeted bombing in residential areas
Target: general public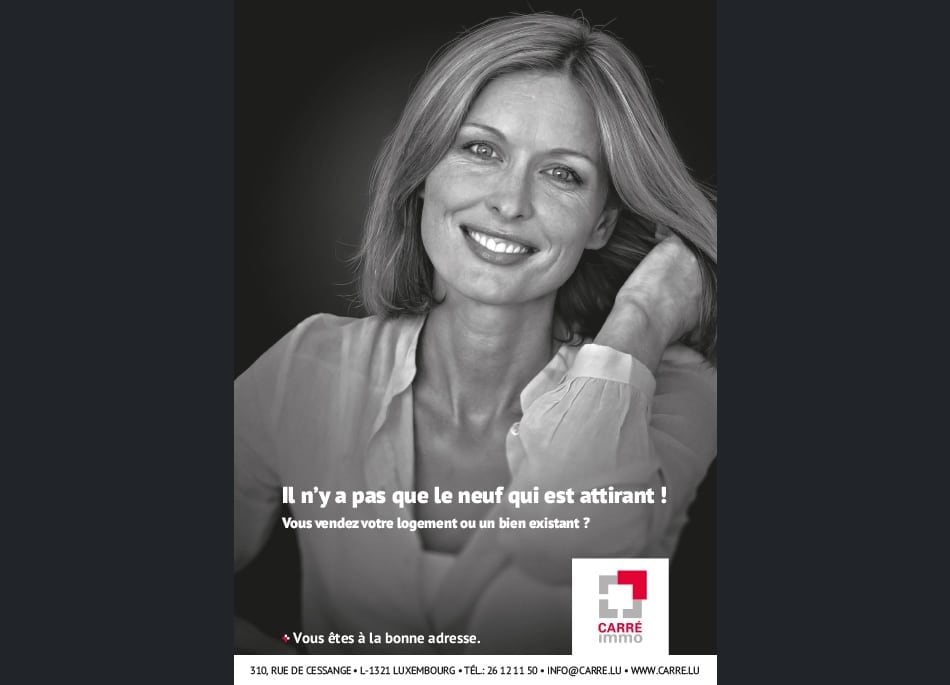 Carré Immo – older housing
Task: the client is known as a major player for new housing projects in Luxembourg, and sought to promote its older-properties business
Objective: promote the sale of its older-housing business with a campaign in the local press
Target: general public, real estate investors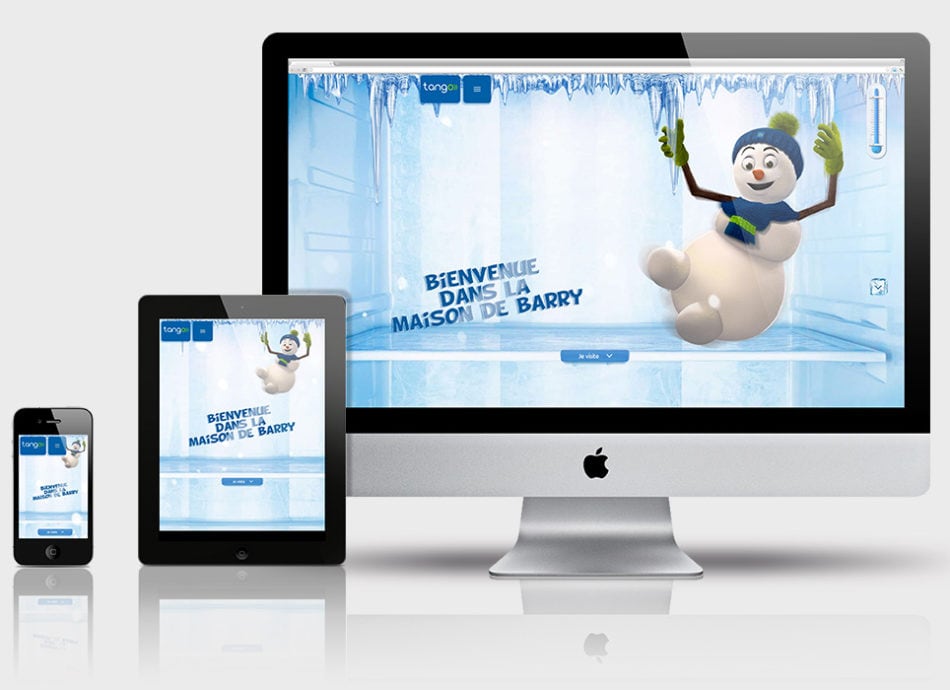 Tango – End of year 2015
Task:  Tango's snowman mascot Barry Whitesnow is back in a new 360° campaign to present the Christmas promotional offers
Objective: generating empathy to promote internet, mobile, and TV offers
Target: general public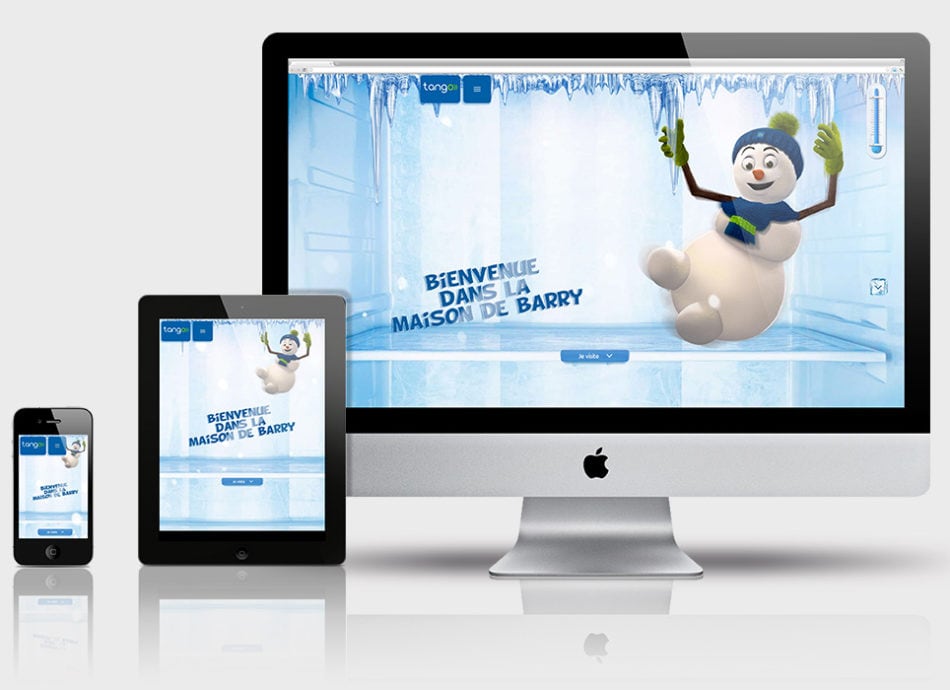 Tango
Sujet :  Barry Whitesnow, le bonhomme de neige mascotte de Tango, est de retour avec une nouvelle campagne à 360° pour les offres promotionnelles de fin d'année
Objectif : promouvoir les offres de fin de d'année internet, téléphone mobile et TV avec un message qui attire la sympathie
Cible : grand public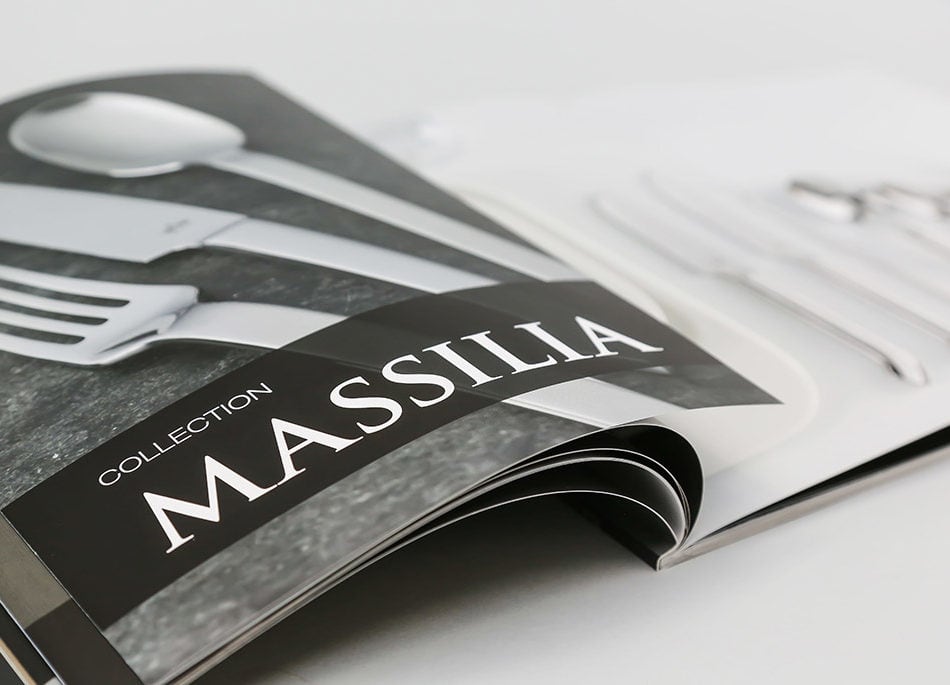 RAK – Cutlery brochure
Task: launch a range of cutlery by a fine porcelain maker
Objective: create a brochure of eight cutlery ranges designed to match porcelain dinnerware
Target: hotels, restaurants (B2B), chefs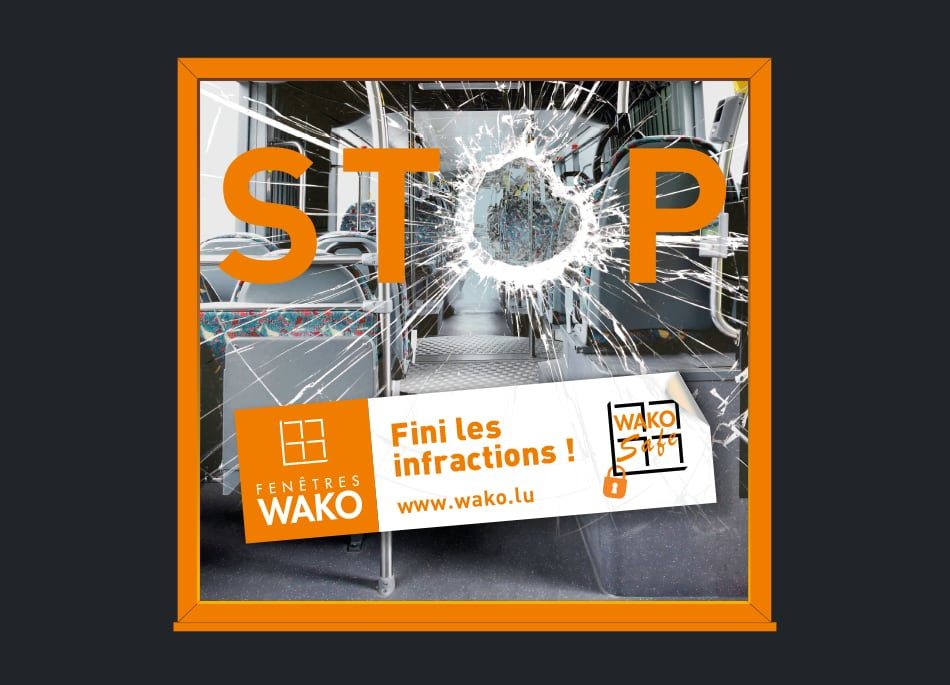 Wako-Safe
Task: creation of campaign to help prevent break-ins
Objective: promote the Wako Safe label as a proof of anti-burglary security
Target: general public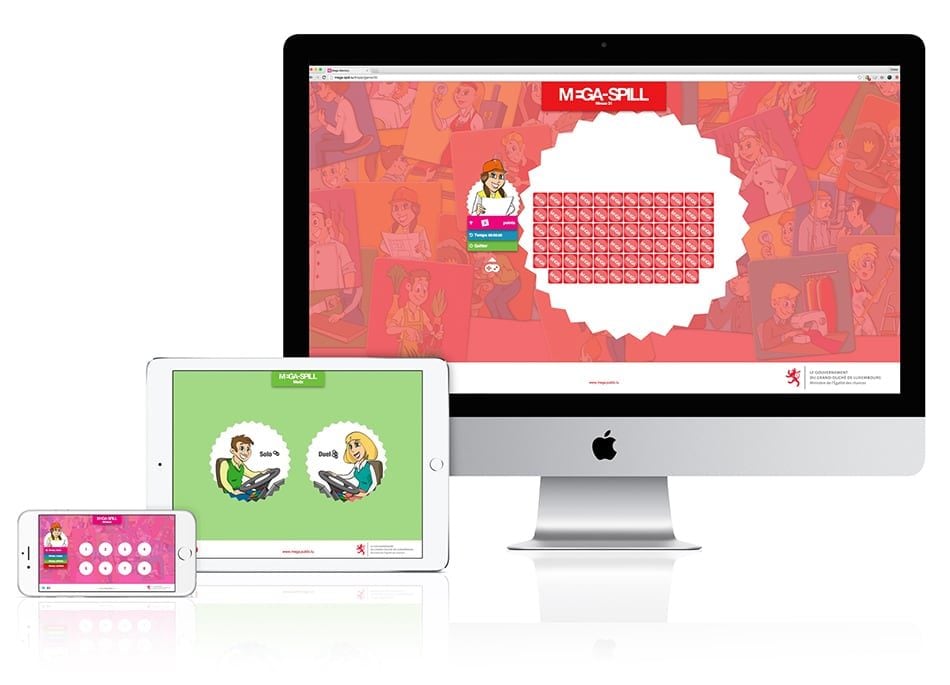 Mega-Spill
Task: creation of a memory game for children demonstrating sexual equality at work
Objective: create a game for pre-school and primary children to make them aware from a young age that men and women are equal as regards their career choice
Target: children and adolescents in Luxembourg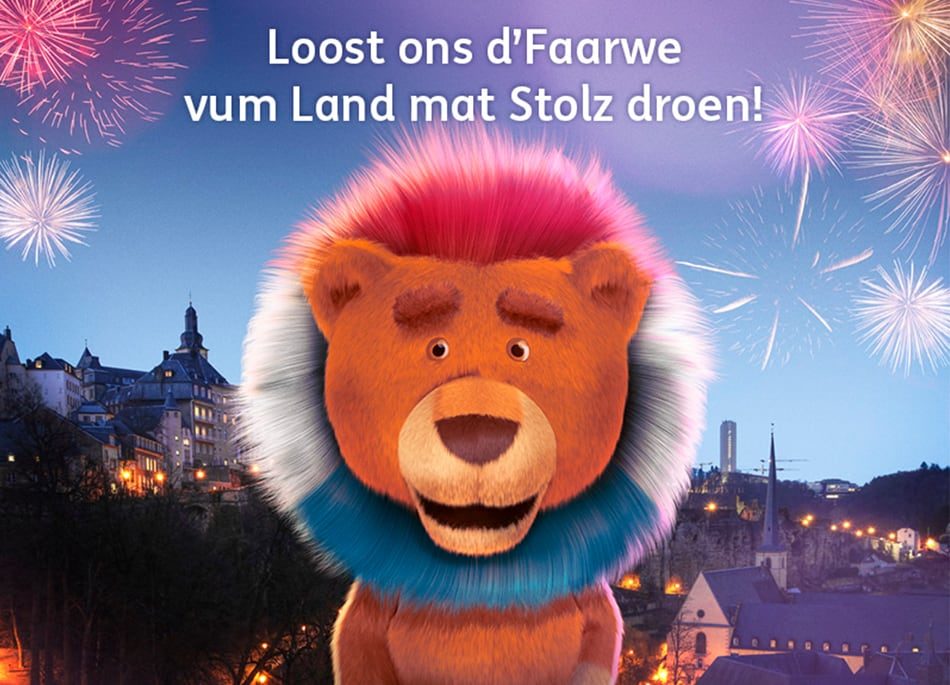 ING – National Day 2015
Task: Luxembourg National Day 2015, featuring promotion on Facebook
Objective: present a pleasant, dynamic image of the celebrations while associating the bank with the country's traditions
Target: general public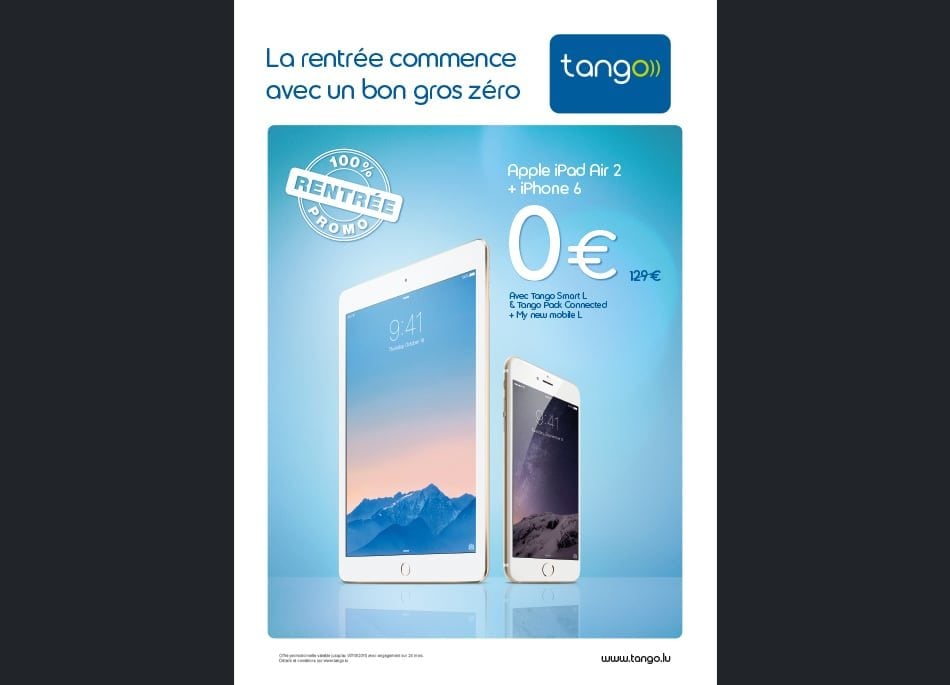 TANGO – Back to school
Task: back to school campaign in September
Objective: present three promotional offers
Target: general public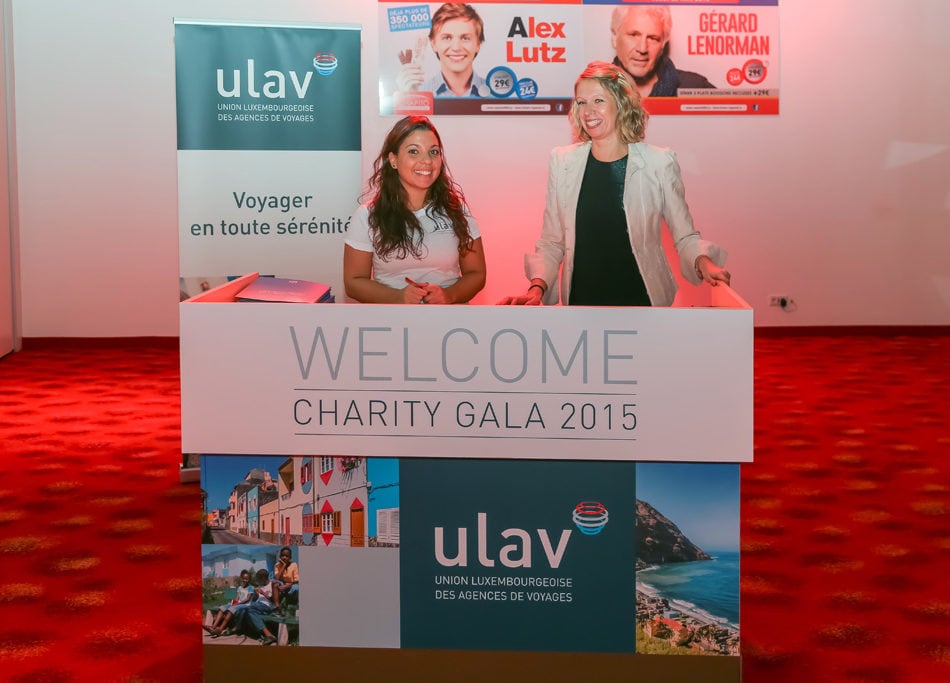 ULAV – Charity Gala
Task: charity initiative in travel agencies that are members of the ULAV, and presentation of a cheque to the SOS Villages d'enfants Monde association
Objective: highlight the charity initiative through the organisation of a festive event for the presentation of the cheque at the Casino in Mondorf-les-Bains
Target: general public, tourism and travel professionals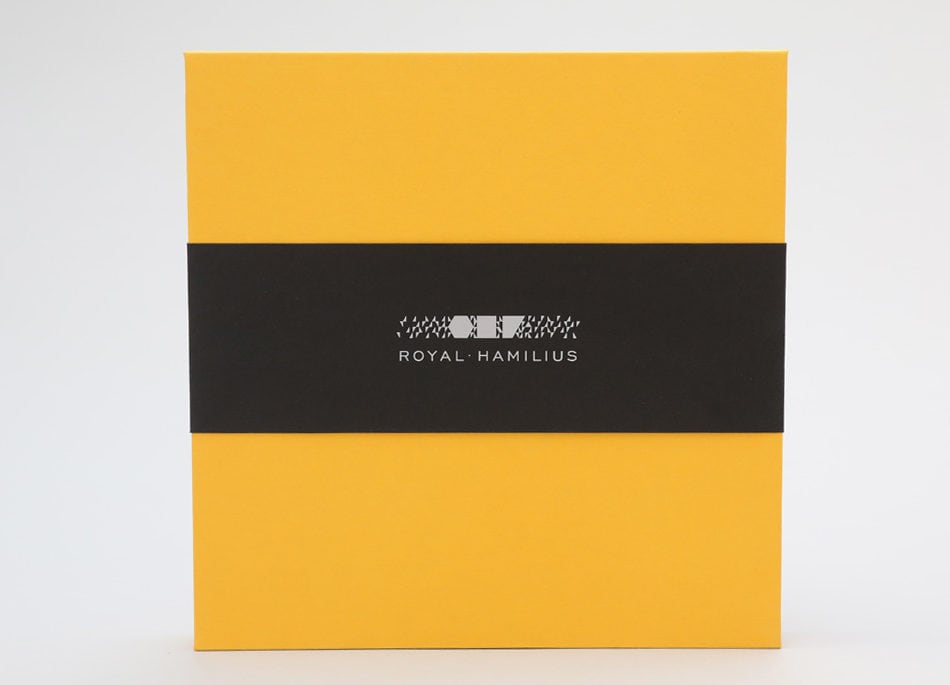 Royal Hamilius – brochure and pack
Task: sale or rent of office and retail space
Objective: commercialise high-end spaces through marketing material that matches the prestige of the Royal Hamilus project (elegant brochure in an attractive pack)
Target: large businesses in Luxembourg and abroad (for offices) and large retail businesses in Luxembourg and abroad (for retail outlets)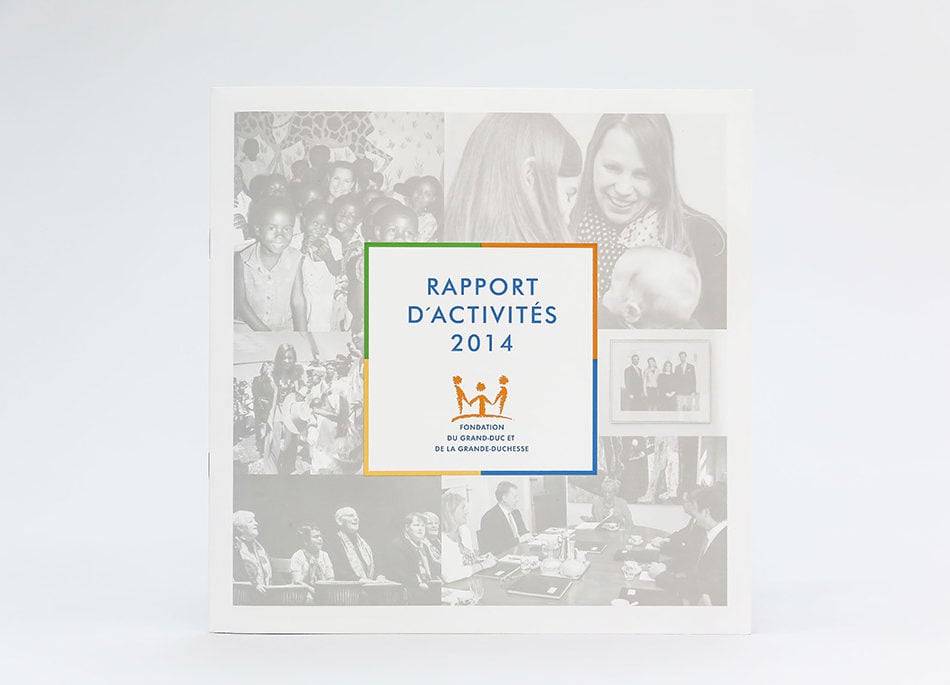 Fondation du Grand-Duc et de la Grande-Duchesse
Task: highlighting the foundation's different projects in 2014
Objective: communicate a dynamic image for the foundation in an activity report illustrated with action photos taken in 2014
Target: Luxembourg and foreign general public, associations and NGOs