600+ clients trust us with their brands
Our work with our clients speaks for itself. For more than 25 years IDP has been working on branding and communication strategy for organisations in every sector, using innovative 360° techniques.
Many of our clients have been with us for several years. That they have trusted us for so long is satisfying and encouraging.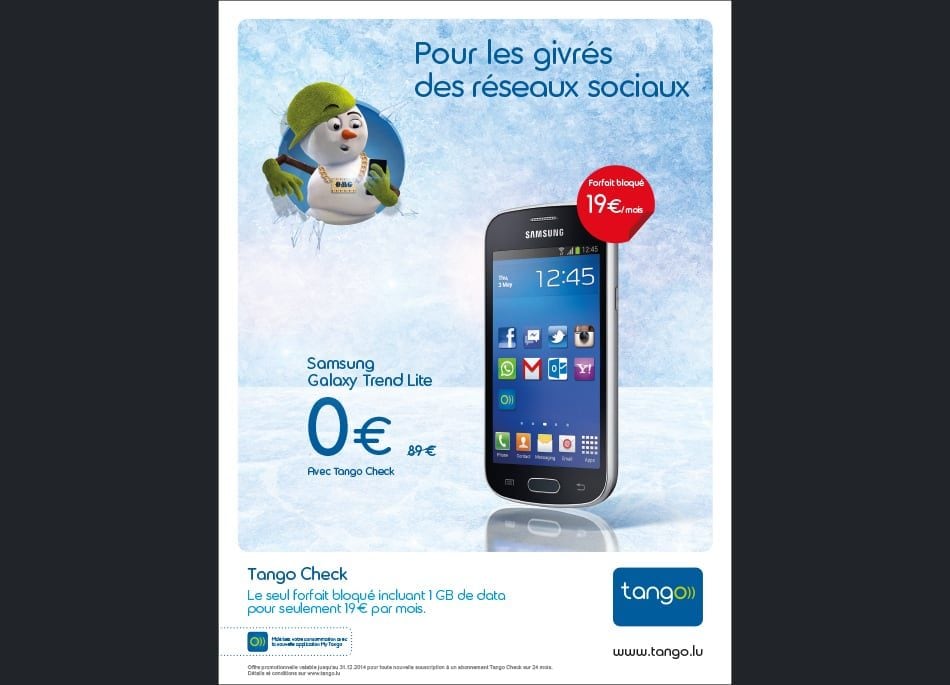 Tango – End of Year 2014
Task: creation of a 360° campaign featuring a loveable snowman character Barry Whitesnow.
Objective: promote Christmas internet and mobile offers with a message that boosts empathy
Target: general public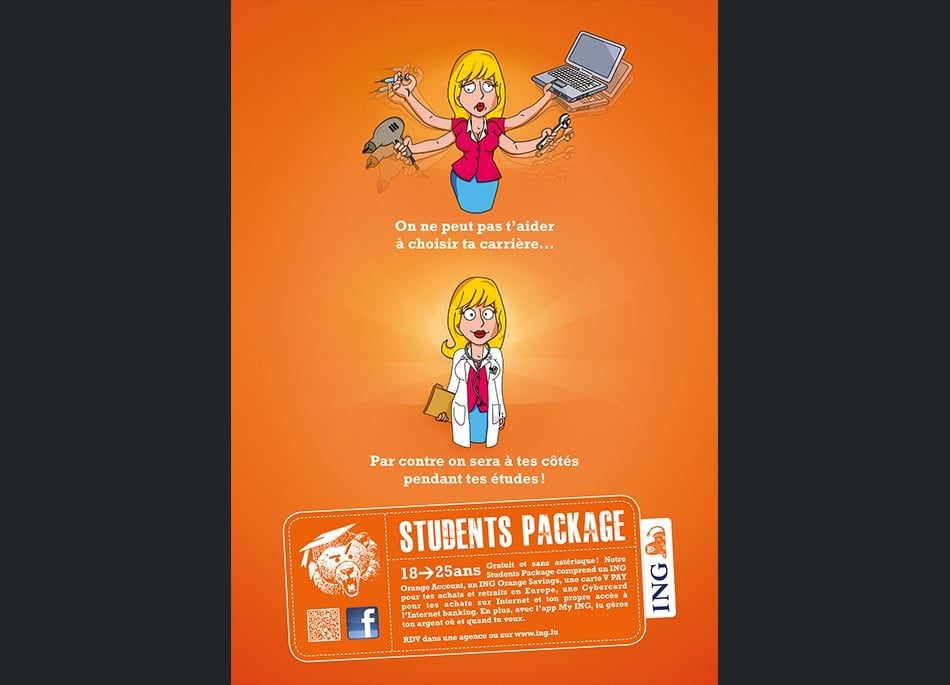 ING – Youth package
Task: presentation of ING 'Youth Packages' – creation of a brand mascot
Objective: creation of a humorous 360° campaign using direct, honest language appropriate for young people
Target: parents, children, students and young employees
ING | EPARGNE PENSION
Task: ING pension plan
Objective: encourage people to save early for their pension
Target: ING clients and potential clients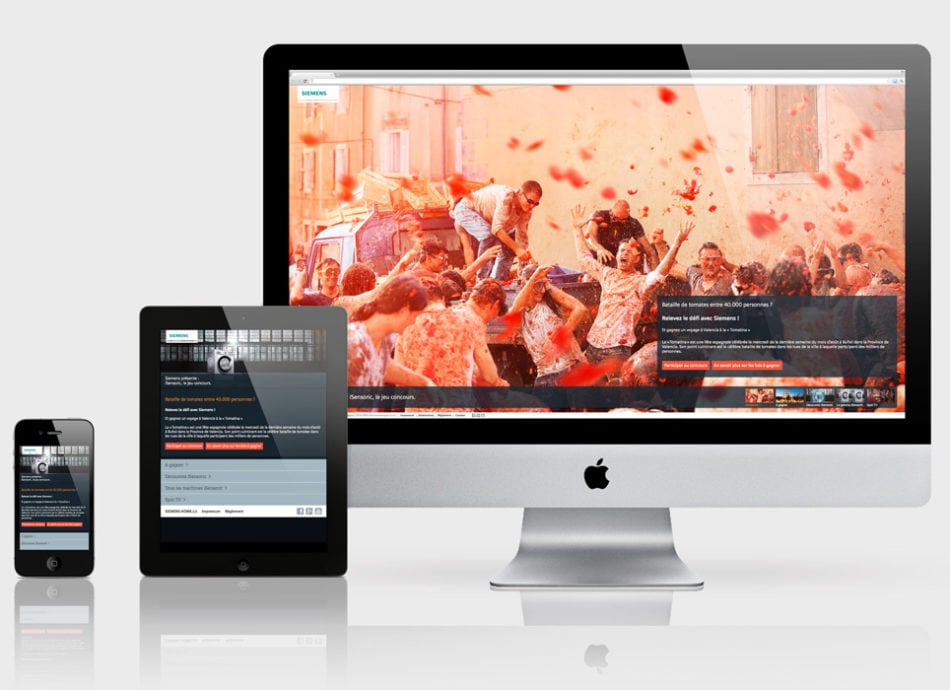 BSH Siemens iSensoric
Task: using Siemens' brand guidelines to create a micro site for iSensoric products
Objective: highlight product technology with a video from the mother company – sign up to a competition by scanning a QR code – community management with the creation of posts – Google Ads campaign to launch the IQ700 range
Target: general public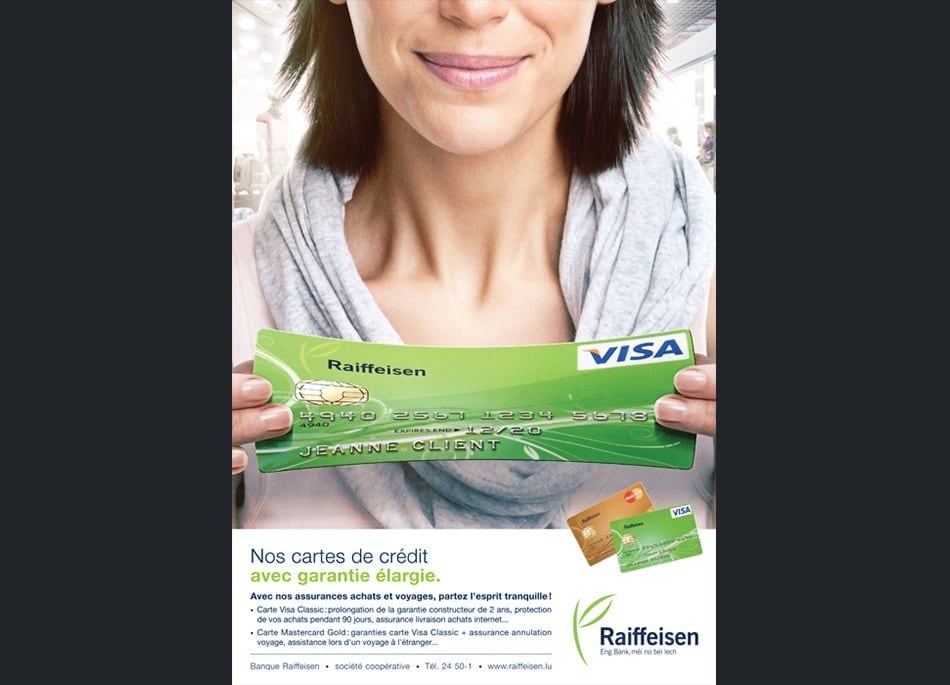 Raiffeisen – Visa campaign
Task: Visa Raiffeisen campaign
Objective: highlight the advantages of the Visa card
Target: clients and prospective clients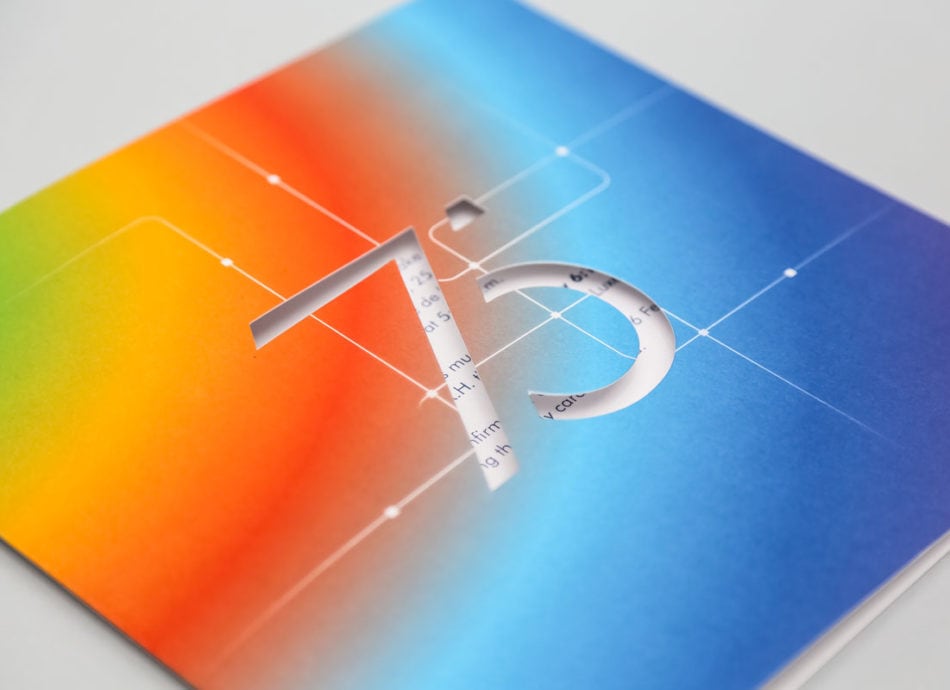 ABBL 75 years
Task: celebration of the Luxembourg Bankers Association's 75th anniversary
Objective: create a logo and an event (with an attractive invitation) that reflects this experience – symbolic multicoloured theme to represent the range of banks in Luxembourg
Target: B2B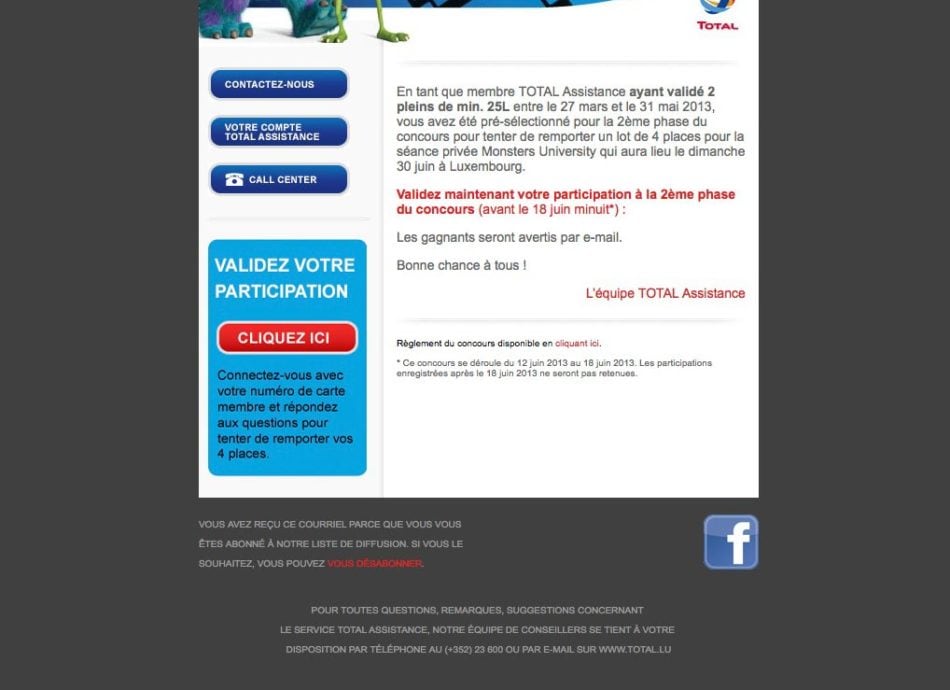 Total – Newsletter
Task: creation of a quarterly web newsletter
Objective: building brand empathy, including with a competition designed to boost customer loyalty
Target: holders of the 'Total Assistance' card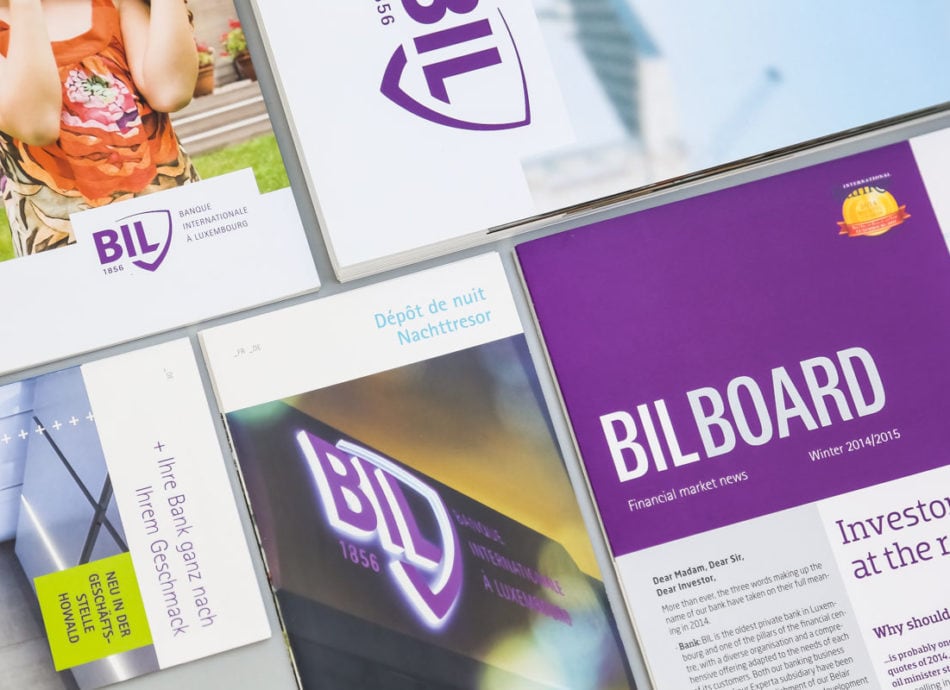 BIL –print communication
Task: the bank's print communication
Objective: create a new graphic identity for the BIL's commercial documentation within their graphic guidelines
Target: clients and potential clients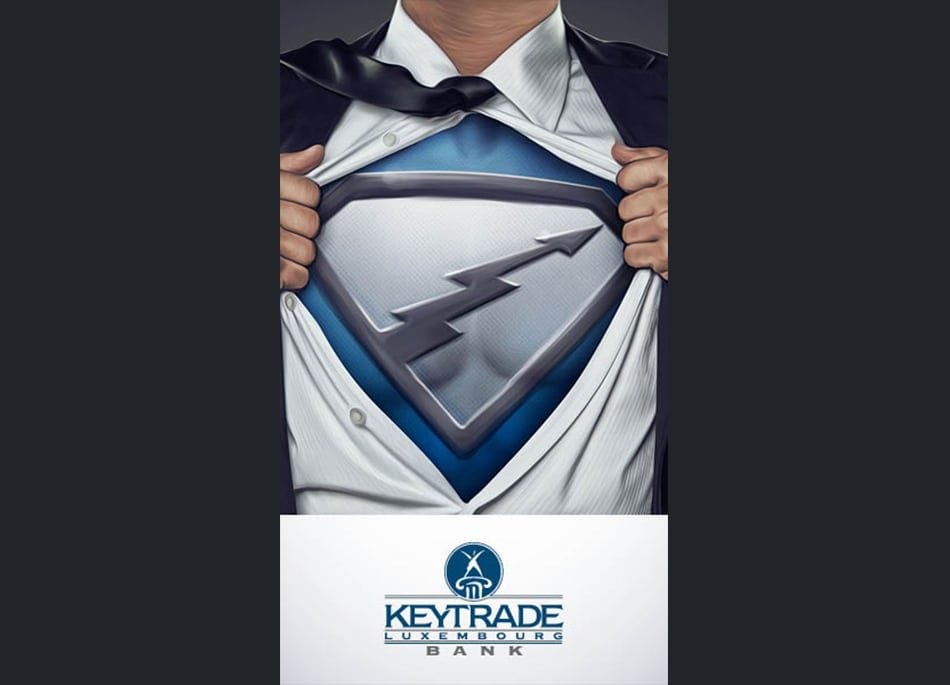 Keytrade – Supertrader
Task: buy and sell shares online
Objective: attract new clients who would like to invest in the stock exchange, using humour and quirkiness
Target: general public and investors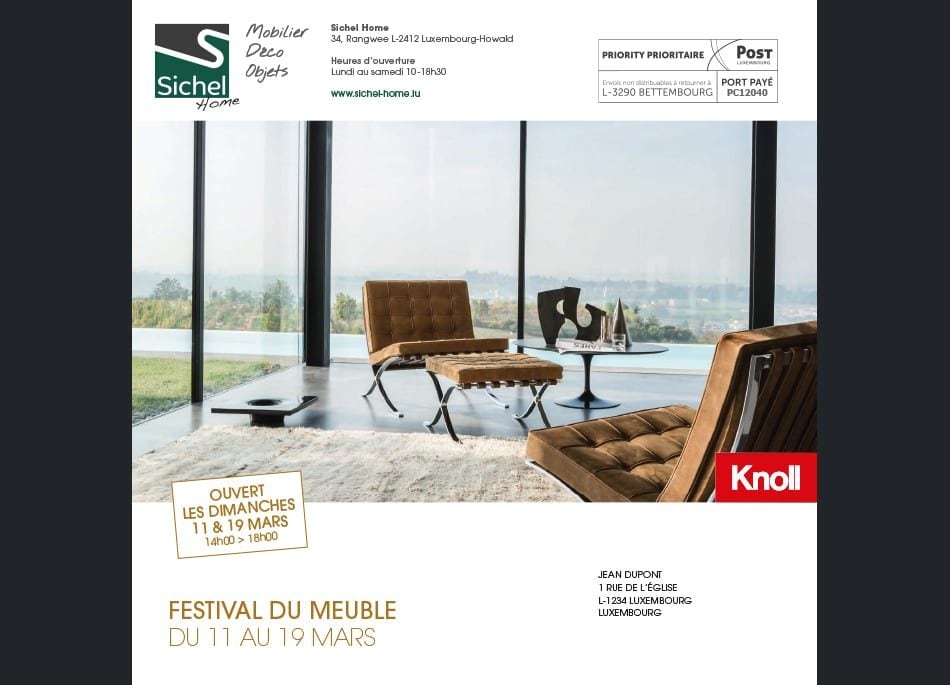 Sichel – Furniture Festival 2014
Task: creation of a concept for the Furniture Festival 2014
Objective: highlight special conditions
Target: general public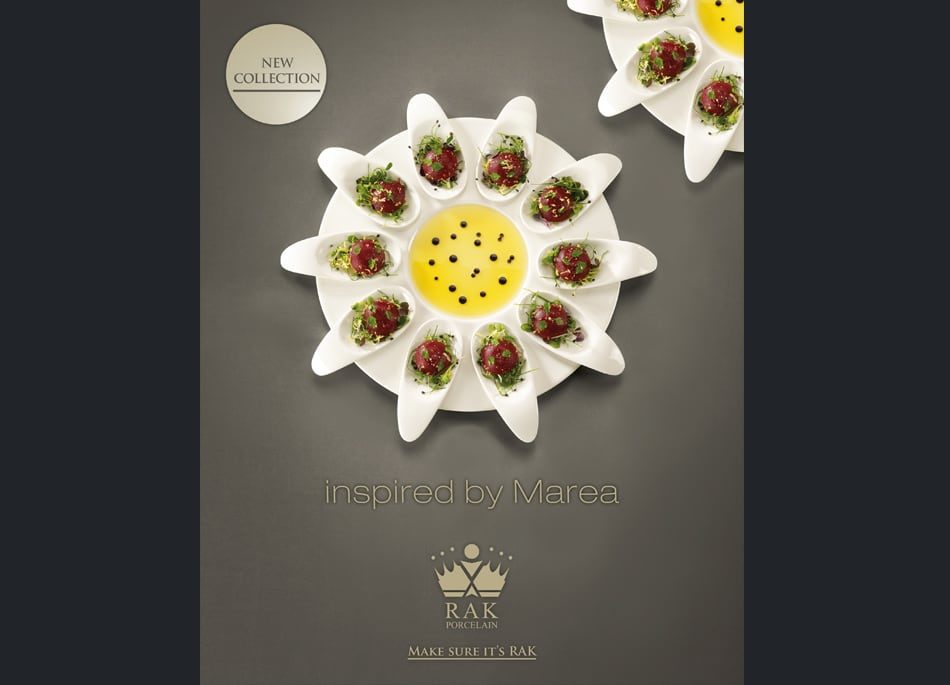 RAK Porcelain
Task: creation advertisements RAK Porcelain
Objective: communicate the quality of RAK porcelain, as well as the innovative nature of these products and the release of new collections – promoting the brand's "top-of-the-range" values
Target: hotel, restaurant, and catering professionals, general public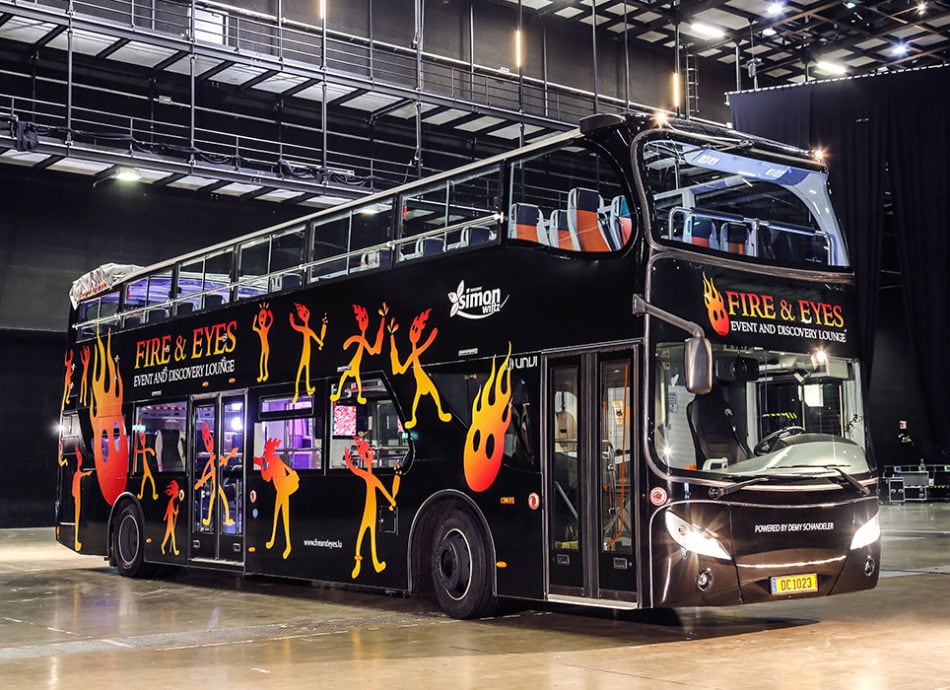 Fire & Eyes
Task: launch of an event/tourism bus by Demy Schandeler
Objective: present the bus as a new tourist attraction and event option
Target: associations, businesses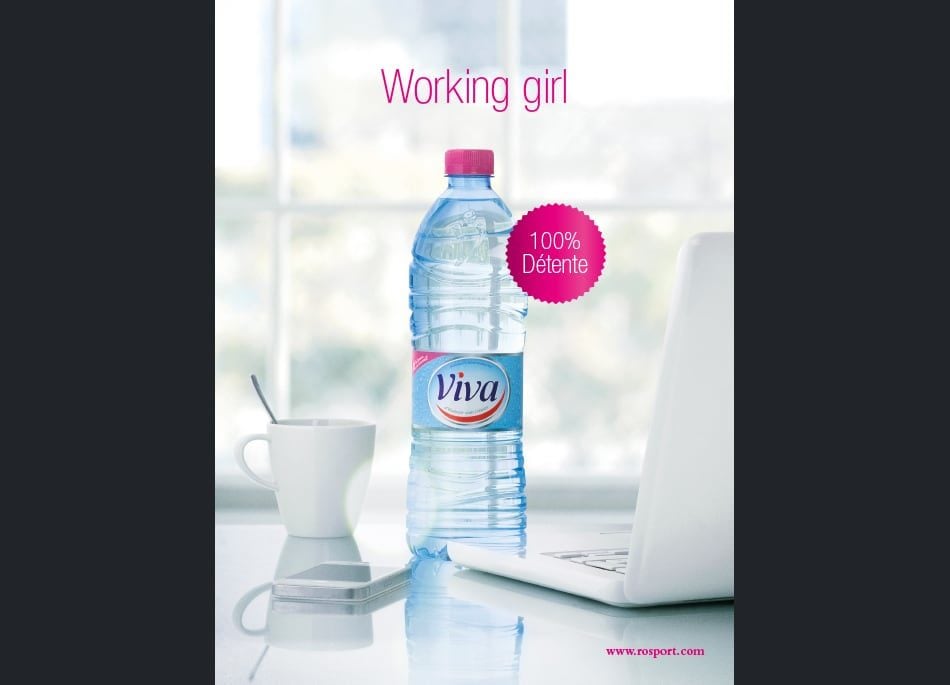 Rosport | Viva
Task: Promote Viva's 1L bottle
Objective: Making the 1L bottle of Viva the modern woman's ideal partner. The campaign presents the product as the solution to each challenge faced by women.
Target: Female audience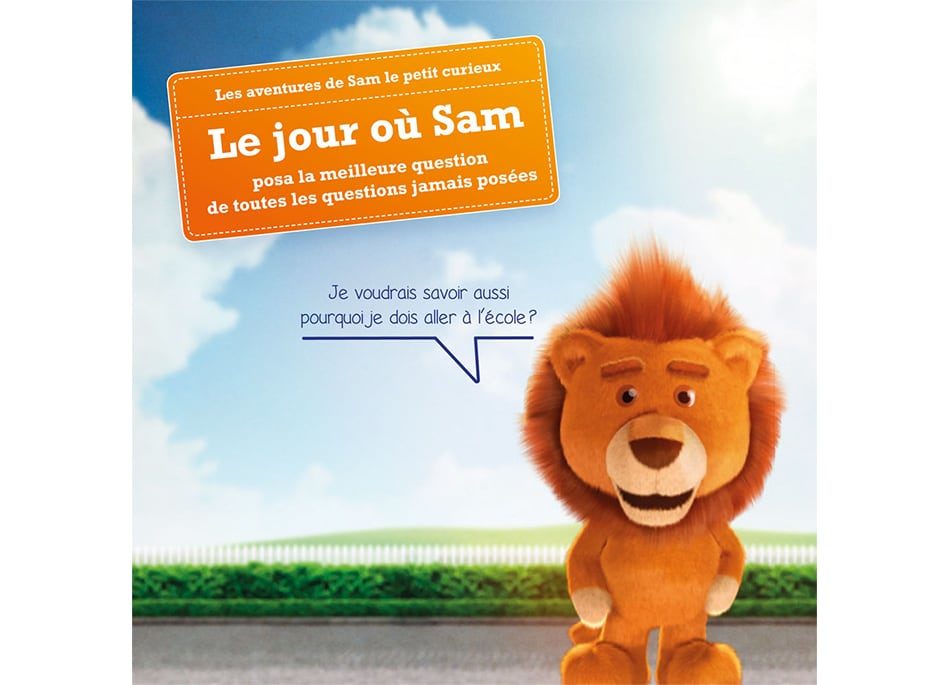 ING – Educational book
Task: distribute an educational book
Objective: create playful and educational books to explain how banks work and the value of money
Target: young people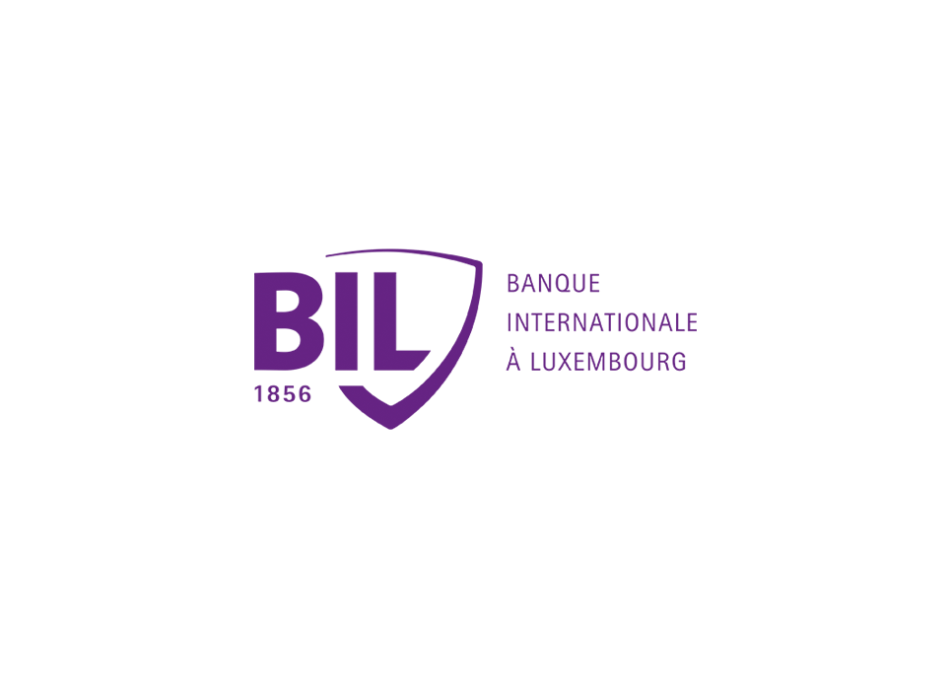 BIL – Rebranding
Task: rebranding: Dexia-BIL returns to being BIL
Objective: creation of a visual identity anchored in tradition while turned with dynamism to the future – creation of a graphic identity and signage
Target: general public and internal communication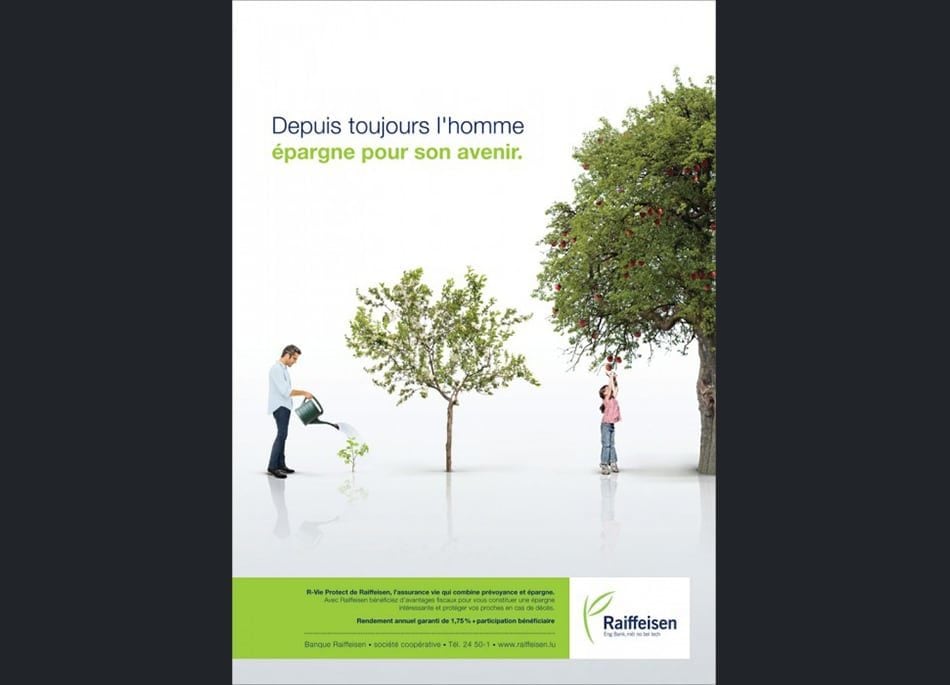 Raiffeisen – savings
Task: Raiffeisen savings options
Objective: encourage clients to save regularly, to recruit new clients, to encourage existing clients to increase their deposits, raise awareness of Raiffeisen as a place to save
Target: clients and potential clients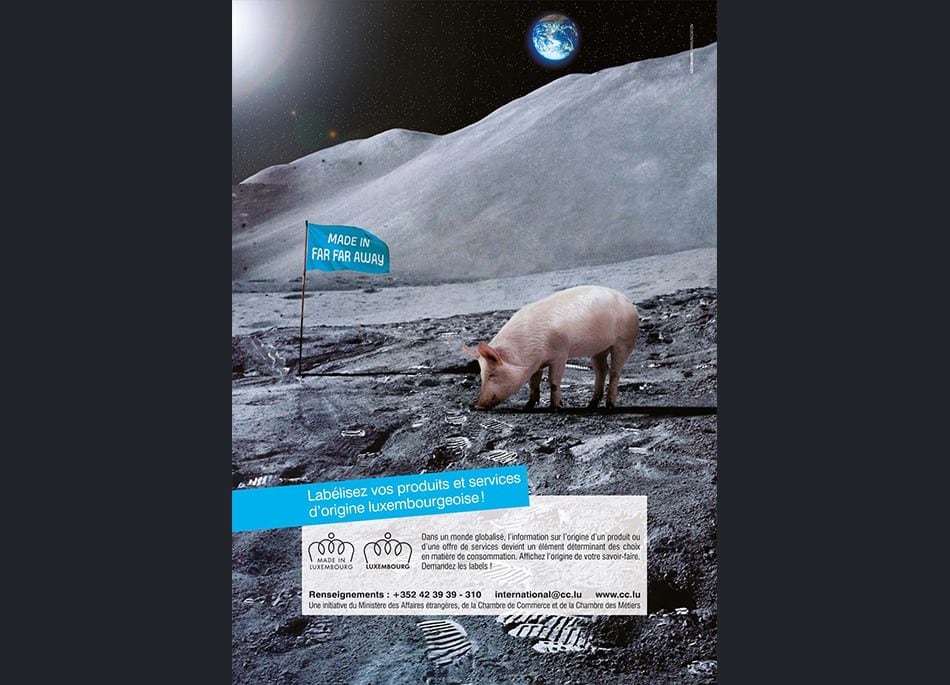 Chamber of Commerce
Task: Chamber of Commerce's professional communication to businesses
Objective: promote the labels "Made in Luxembourg" and "Luxembourg"
Target: entrepreneurs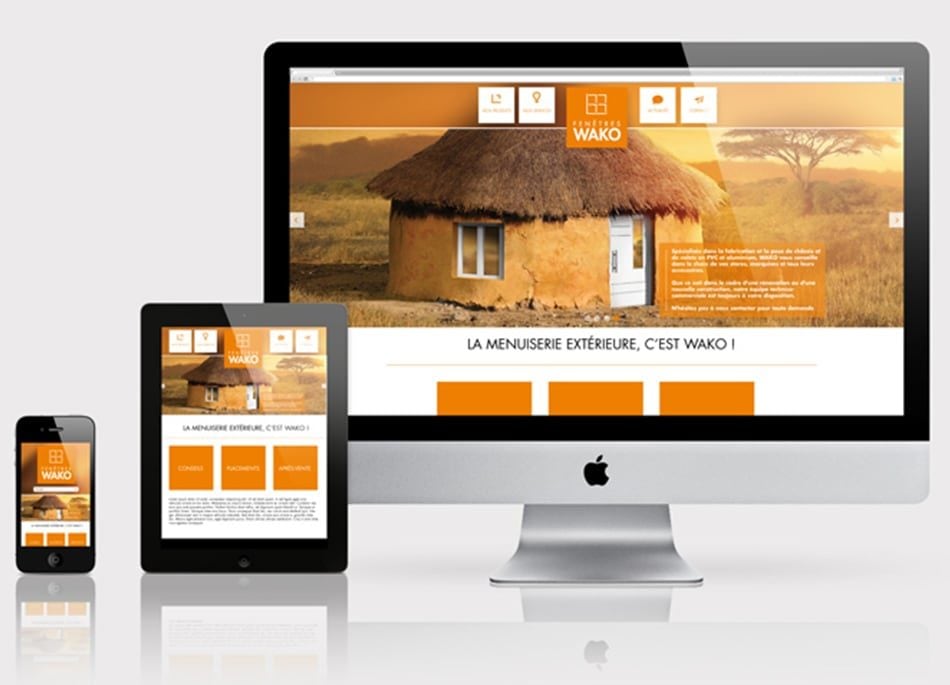 Wako
Task: refreshing the graphic style and creating a clear website
Objective: cleaning the graphics and enriching the information with an optimised structure
Target: general public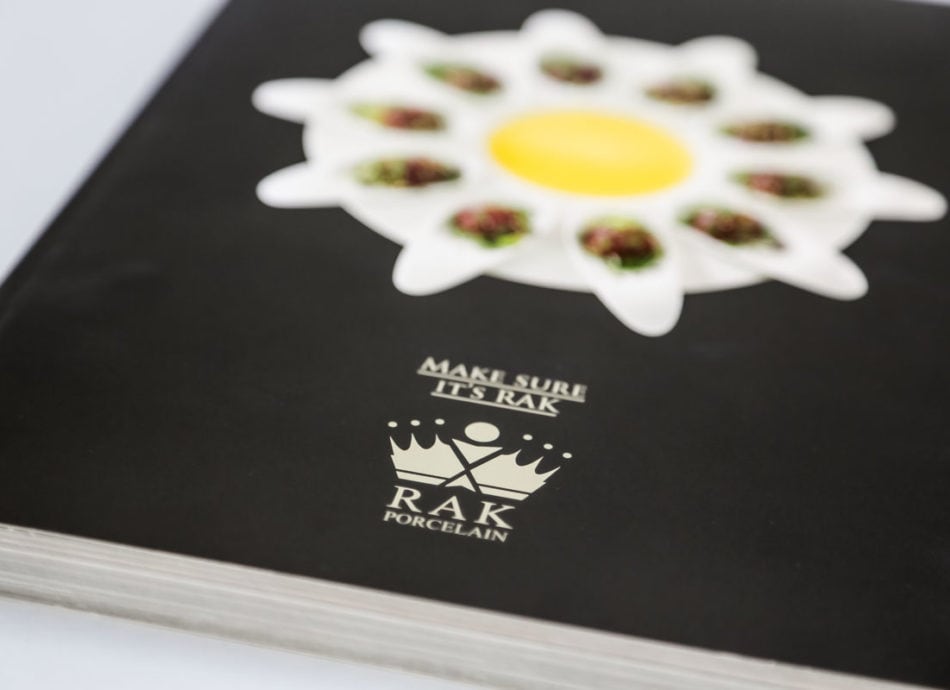 RAK Porcelain – new corporate branding
Task: new corporate branding for RAK Porcelain
Objective: develop a new elegant branding that reflects the brand with a top-of-the-range approach.
Target: hotel, restaurant and catering professionals, and general public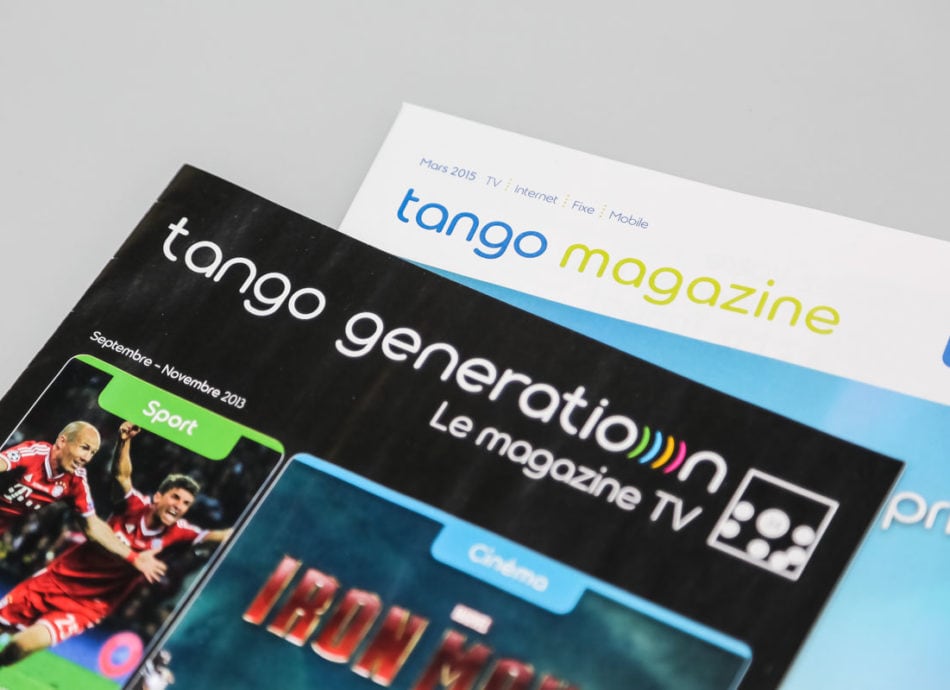 Tango Magazine
Task: launch of Tango magazine
Objective: promote Tango offers to generate traffic in sales outlets, creation of Tango graphic guidelines, a printed magazine, subscription recapitulation tables
Target: general public: home delivery and at sales outlets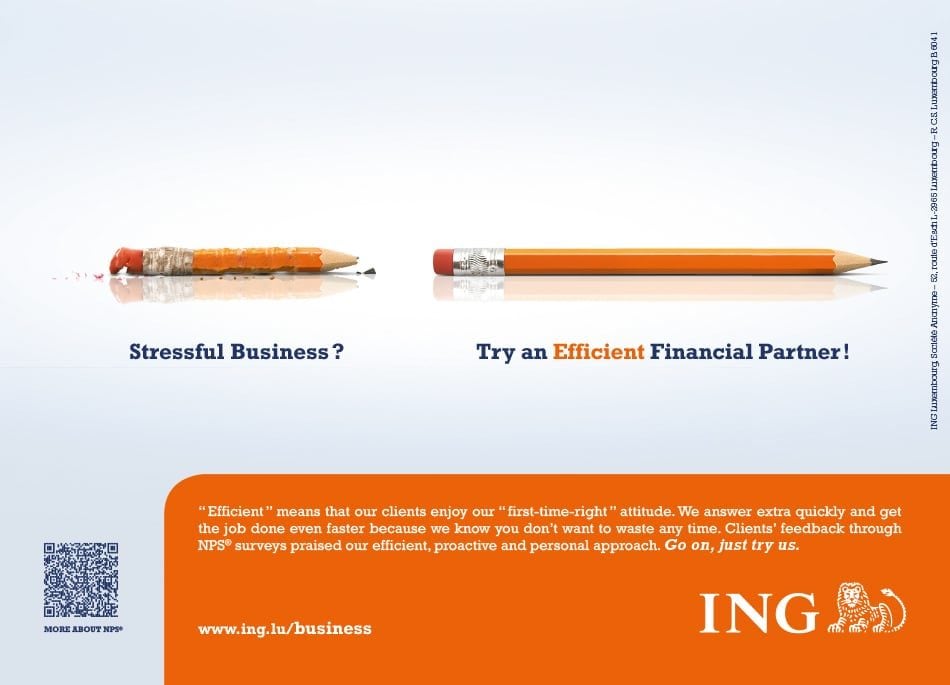 ING – Commercial banking
Task: ING commercial banking
Objective: promote ING's full service offering by showing their personality and modernity
Target: ING clients and potential clients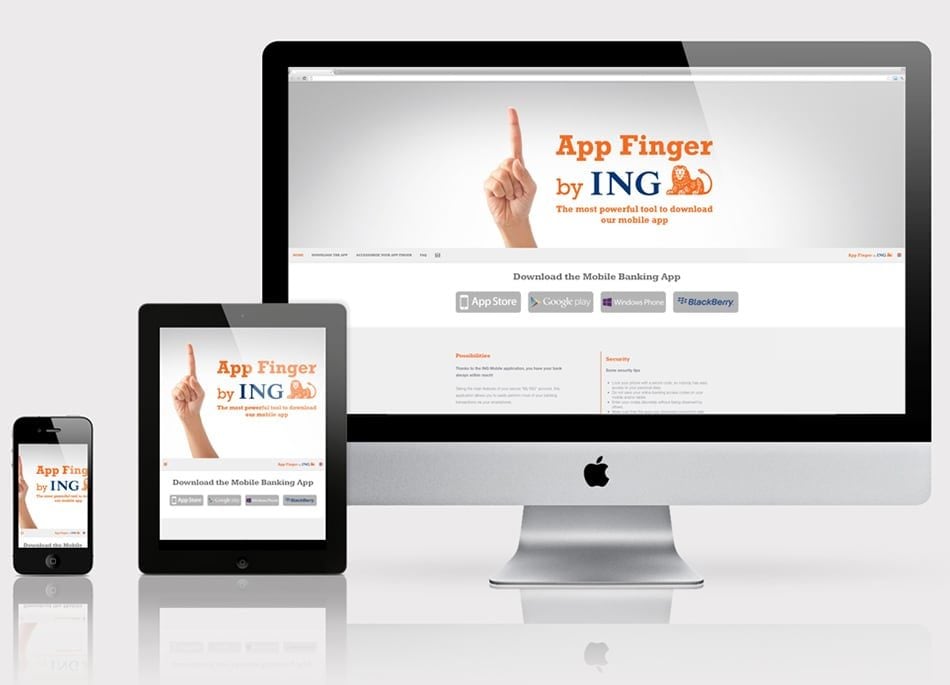 ING – App finger
Task: new ING application
Objective: step out of the ordinary with quirky communication about banking services: launching a fake technological revolution: The App Finger
Target: ING clients and potential clients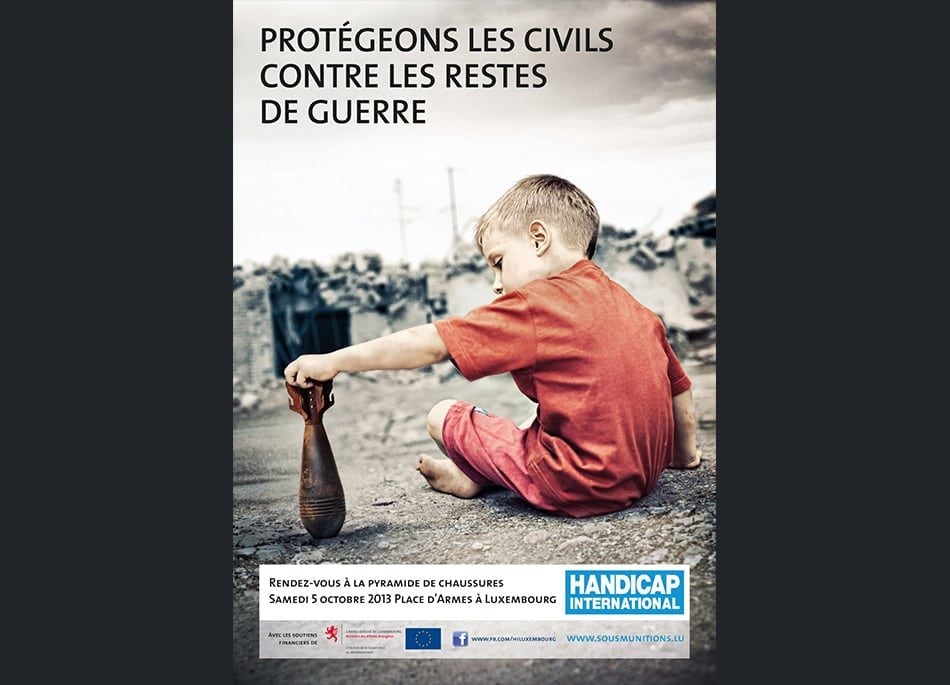 Handicap International
Task: reaffirmation of Handicap International's mission: cleaning up after war to avoid accidents, and helping countries redevelop
Objective: raise awareness of the increasing prevalence of remnants of war and the related dangers in terms of development and human life
Target: general public and politicians
Tango – Roaming 2014
Task: creation of a humorous 360° campaign for the "holiday roaming" offer
Objective: highlighting a summer roaming service for all Tango clients
Target: general public